I am ashamed to admit that after spending the majority of my life in Austin, yesterday was the first time that I have ever eaten at
Hut's Hamburgers
.
I understand if you are so repulsed by my confession that you stop reading here and now.
But for those of you who are willing to overlook that small flaw in my life, I am happy to report that I have eaten at Hut's, and it was delicious.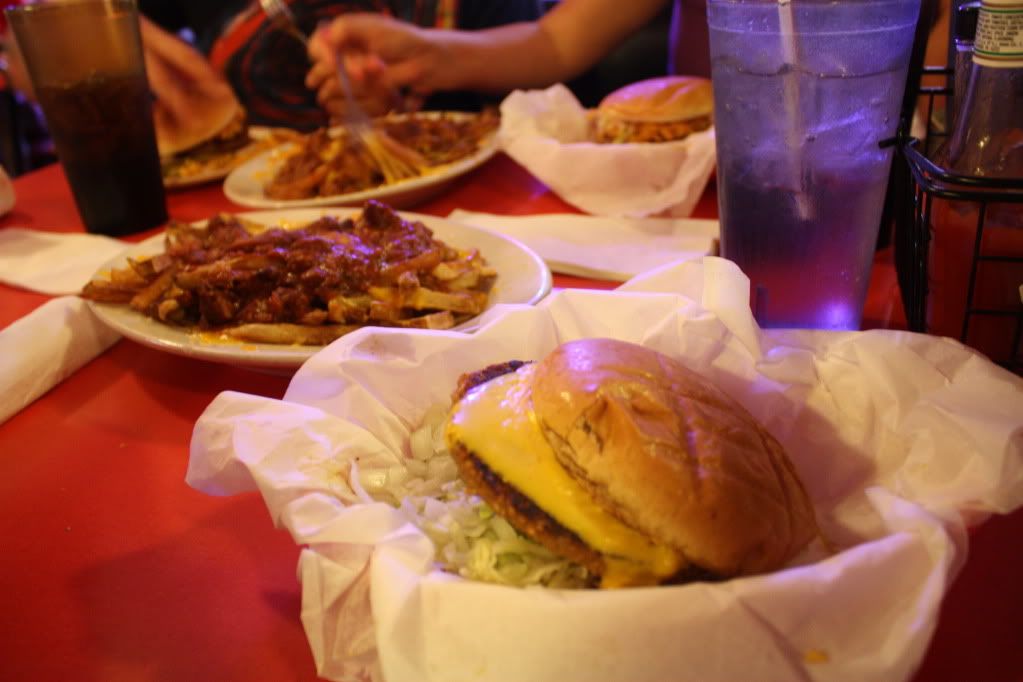 I gorged myself on their All American Buddy Holly burger (with a veggie patty) and veggie chili cheese fries. I think I would have liked a little more cheese on them, but they were otherwise completely satisfying.
After lunch my husband and I headed down to
Antonelli's Cheese Shop
. We have had very bad luck with finding authentic British cheeses here in Austin. Several times I have gotten excited after finding a double gloucester or a red leicester only to be severely disappointed after trying them. My husband was starting to give up hope, but then I heard about Antonelli's and surprised him by taking him there. Several great things about the shop:
1. They know their cheese. They stock a variety of cheeses that changes frequently, so although they didn't have the two specific cheeses my husband loves, they were able to recommend cheeses that would be similar.
2. You can taste before you buy. No more wasting chunks of cheese after one slice when you discover it is barely edible. They offered us tastes of many of the cheeses, even offering to let us try more after we had already decided what we wanted.
3. Friendly, personal service. They really took the time to talk with you, suggest items, and share their passion for cheese. They can also keep a list of cheeses you have bought so if you come back in the future and are like 'I think I had a cheddar of some sort....?' they can know exactly what it was to best serve you.
For us we went with an English clothbound cheddar, but it was a tough choice between that and a Swiss cheese. I'm sure we'll be back, especially since I was eyeing up the Parmiggiano Reggiano.
After a quick stop at home to put the cheese in the fridge, we checked out our neighborhood's
new library
which opened a couple weeks ago. The building itself is pretty awesome with a rainwater harvesting system, solar panels, and lights that dim themselves where there is adequate daylight. I got to check out a recent
Danny Wallace book
(who is one of my favorite authors) along with a couple other books I have been wanting to read. My husband also got his very first American library card. ~*So proud*~ lol
In the evening we were going to go out dancing with some friends at my favorite club, until we realized that one person in our group was only 20. The night was saved, though, by the
Alamo Drafthouse
where we saw the documentary Winnebago Man.
At one point or another a lot of you may have seen the outtakes of a Winnebago film with an angry man swearing and ranting in take after take after take.
Obviously, clip is NSFW due to language.
Well, a filmmaker loved the clip and started to wonder "who was this man? what made his day so bad? is he aware of his internet fame? what does he think about it?" and set out to find him.
The film is funny and endearing, and I'm really glad we ended up seeing it instead of going out dancing because I don't know that I would have watched it otherwise. A+
*whew* that was a long summary of my Saturday. Hope your weekend was well!