So after not having been to a concert for several months, I went to two in a week (the
Sufjan
one being the first)
On Saturday we went to see
Los Campesinos!
,
Johnny Foreigner
, and
The Authors
.
We had seen Los Campesinos at Emo's about a year ago? But I had never seen Johnny Foreigner before, and my husband is a pretty big fan of theirs.
And he had committed to letting them sleep at our place after the show.
I didn't find out that they were for sure coming until Friday evening, so after I got off work at 11pm, I was up cleaning for several hours.
On the plus side, our place is cleaner now than probably about since we moved in!
As for the concert itself, I had never heard The Authors before, but they are an Austin band and had gotten a pretty good write-up on
Austinist
. I ended up really liking them! I pretty much always listen to opening bands at concerts because a) it's the nice thing to do and b) I like being near the front, but am not a jerk like some people - my view is that you either get there early and get a place or stand at the back. Don't shove people out of the way.
The problem is that at a lot of the shows I don't care much for the opening bands. After The Authors' first song I liked them but was still hesitant that maybe it was a one off, that maybe they played their best song first and it would be downhill from there. But it was not so! I enjoyed their whole set.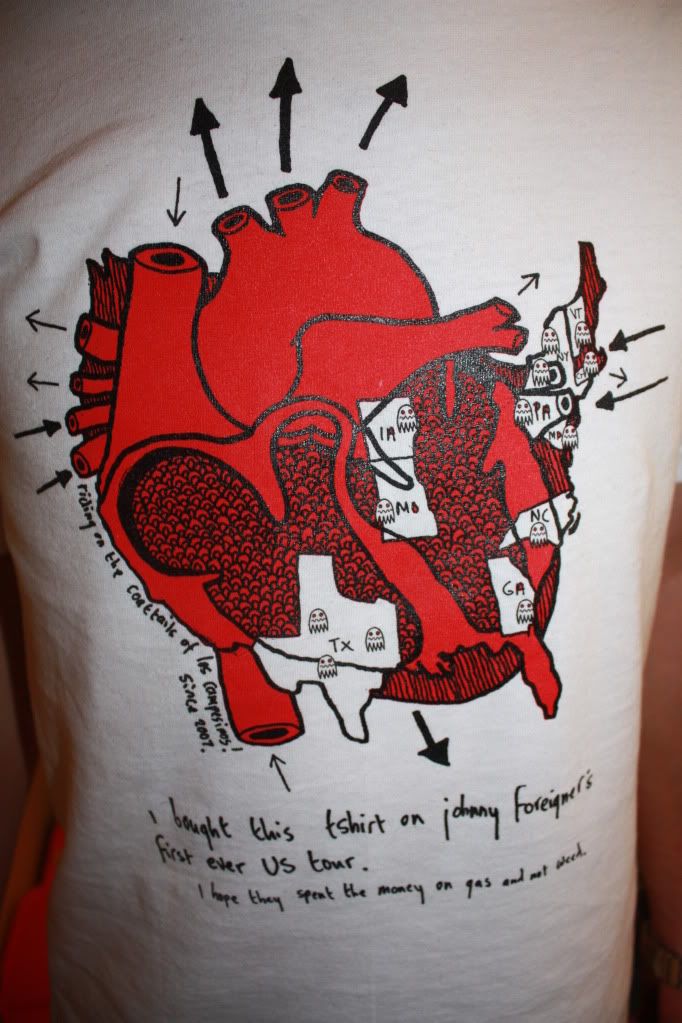 Johnny Foreigner Tour t-shirt. Husband would not let me take a photo of his face.
Next was Johnny Foreigner, and I feel I must admit that I only knew one song before seeing them. They were a lot of fun, and I enjoyed that they had a screen with video projections on during their set, however I can never decide what to watch when bands do that. Do I look at the singer? At the video? Oh hey, the drummer's getting into it! Ooh, a keytar! Where do I look? Where do I look?!?
Next Los Campesinos! came on. When I first saw them I didn't really enjoy the show, through no fault of theirs. I was tired and the weather wasn't great, so I ended up sitting on the bleachers at Emo's Outside and half fell asleep.
This time it was totally different. Had some coffee before the show, La Zona Rosa is indoors and air-conditioned, and the crowd was really into it. Everyone was dancing and singing along, so there was a really good vibe. The night before the show they had posted on their twitter:
"NONE OF US ARE WELSH" (they formed in Cardiff, so I guess people just assume they are Welsh) so I joked that we should have made a really big poster that said "Croeso i Austin!!!" which is Welcome to Austin in Welsh.
After the show Kelly came back to our place with me, while Lee and the guys went out. I think my cat Henry was in heaven having someone else giving him attention.
I hope the bands enjoyed Austin, and hopefully they'll come back on tour again in the not too distant future :)