After the festival yesterday I was feeling pretty tired, so I took a nap. After waking up, I was very, very achy and continued to be so through this morning. I kept getting worse and ended up at a clinic that is open on Sundays. :-/ The blood test showed some elevated white blood counts, but not enough to say what was going on, so I'm just resting and seeing if I am coming down with something or not.
On our way back from the clinic we went by a CVS, so we stopped in for my weekly coupon shop.
If you remember from
last week
, I ended up with $19 in CVS bucks. We got an email coupon for $5 off any $30 or more purchase. Here's what I got with $1.44 out of pocket (and received $5 bucks back):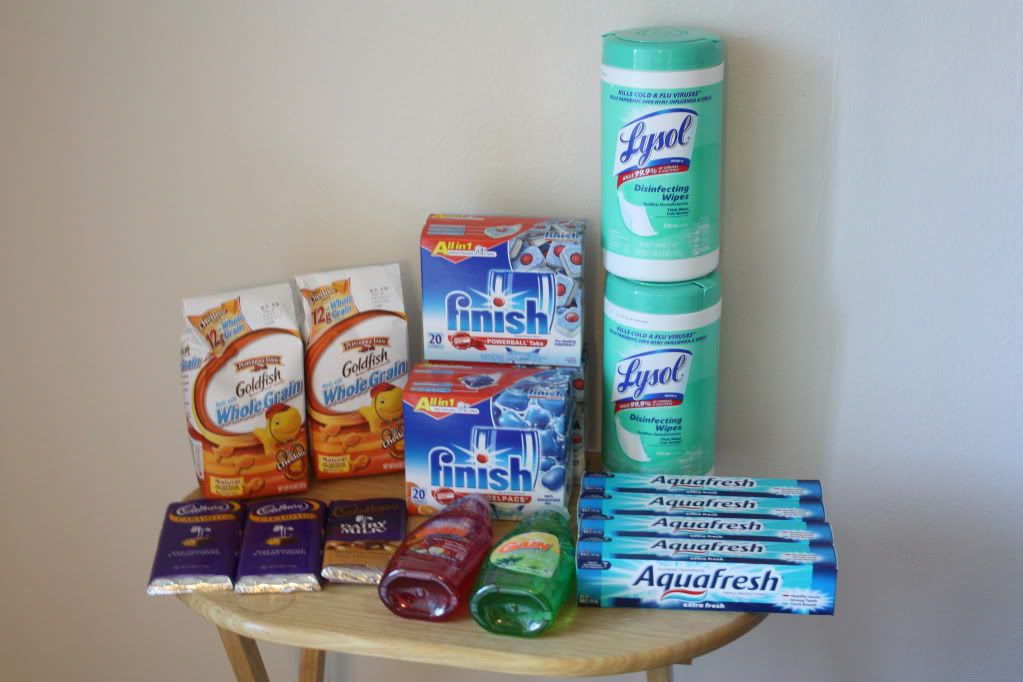 Like I've mentioned before, my husband will only use Aquafresh toothpaste, and it is buy one, get one free this week. He also misses English chocolate, so when Cadbury's is on sale I like to get him some. Unfortunately they were out of the fruit & nut, which is his favorite.
The Gain dish soap is on sale for $0.99, but there are $1 off coupons in the 10/10 Red Plum inserts, so I got two bottles with the two coupons I had. The Goldfish crackers were to help bring the total up fro $30... and just because I like them.
The extrabucks deal I did was for if you bought $15 worth of Lysol and Finish products you got $5 back.
I bought 2 Lysol disinfecting wipes which were 2 for $8 and used two $1 off coupons from today's paper.
I also bought 3 boxes of Finish dishwasher tabs, which is the brand we normally buy anyway, and used two $0.75 off coupons from today's paper. Not a bad deal.
All in all, according to my receipt I saved $54.18. Normally Husband doesn't come with me on these trips, and he said he is always amazed to see the total go down so much.
I think the cashier was as well.
The Penny Experiment
which details a man's quest turn one penny into one million dollars worth of food to donate to his local food shelters.
You can find other CVS deals for this week
here