On Saturday Husband and I got up early to drive out to the
Texas Renaissance Festival
in Plantersville, TX, which is about 3 hours east of Austin.
I had never been before, but one of my friends goes every year, and we had planned to go a couple weekends ago, but there was rain in the forecast and decided against it.
We left Austin around 7am, and as we were driving through Giddings I had to make a sharp u-turn.
Were those... legs?... standing out of the ground?
yes. yes they were.
Oh small towns! How fun you are.
For short visits.
Almost as soon as we were finished laughing about the legs I had to make a sharp right and go around the block back to a mural I noticed. A mural that talked about hospitality.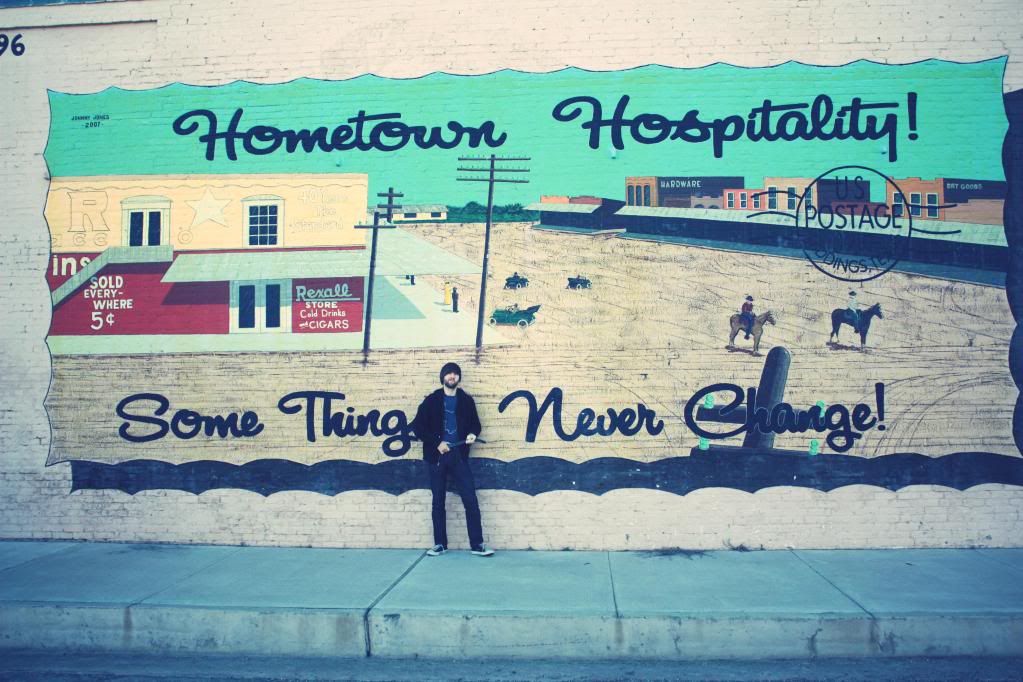 Several months ago a documentary called Best Worst Movie came out, and the director and some cast members were in Austin, and we got to listen to Q&As and attend an improv night that revolved around some stories they told. Anyway, the documentary is about the film
Troll 2
, which is a cult film that is also considered the worst movie ever. Here is a memorable clip from the film, which might explain why I thought the mural was funny and why my husband is messing with his belt.
and a dainty curtsey
We drove through Brenham and thought it was quite nice looking. We'll have to go back and visit, especially on a weekday when we can take a tour of the
Blue Bell Ice Cream creamery
.
Off 105, closer to Navasota, we passed a house with a sign out front that said S&M Place and there were loads of children's toys in the yard. Oh small-town folks.
Husband remarked about how Austin tries hard to live up to the slogan "Keep Austin Weird", but he thinks the entire state is weird. Especially the smaller towns we drove through.
We got to the festival a little after it opened and were completely overwhelmed.
I had no idea it was so huge or that so much work was put into the buildings and the grounds. I don't know what I was expecting, but it blew me away.
Of course it is mostly designed to get you to spend money at all the shops and food places, but it was really fun just to walk around and try to take it all in.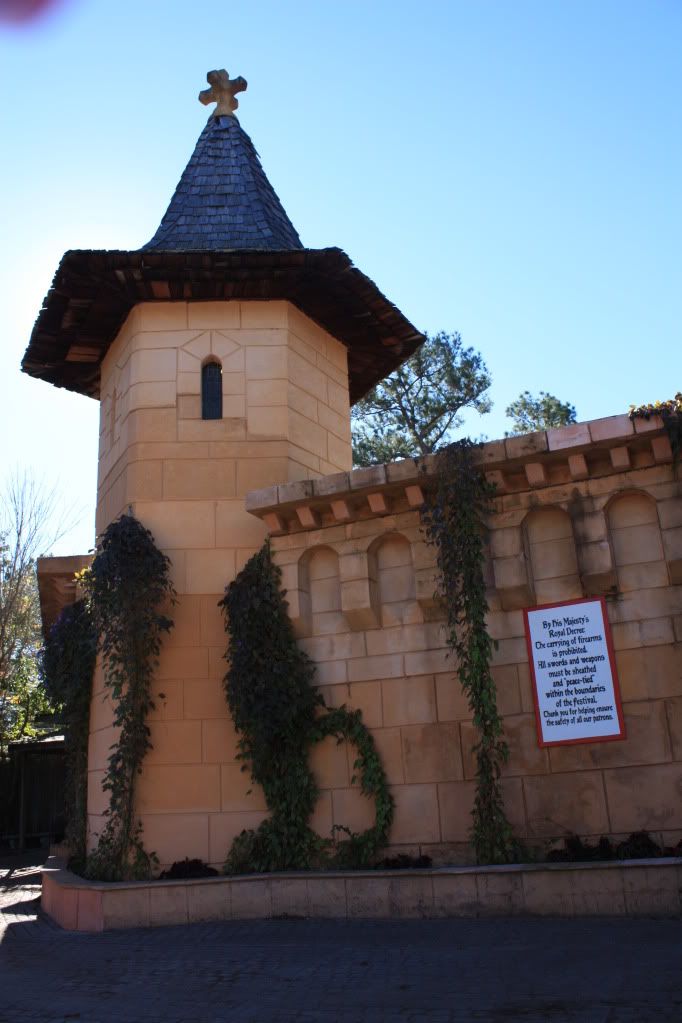 entrance and weapon policy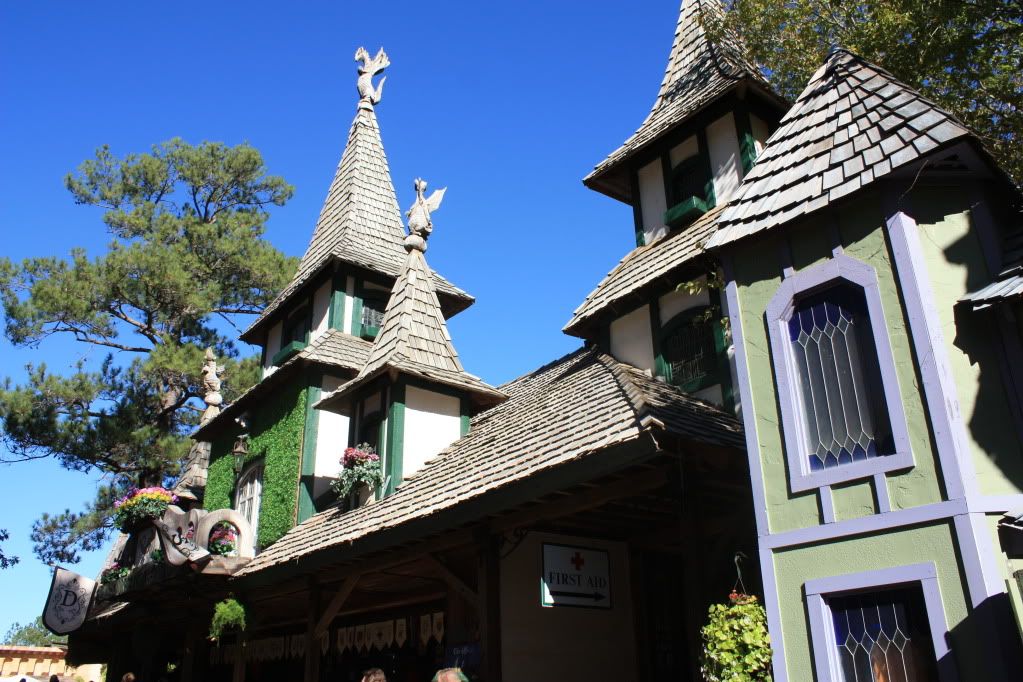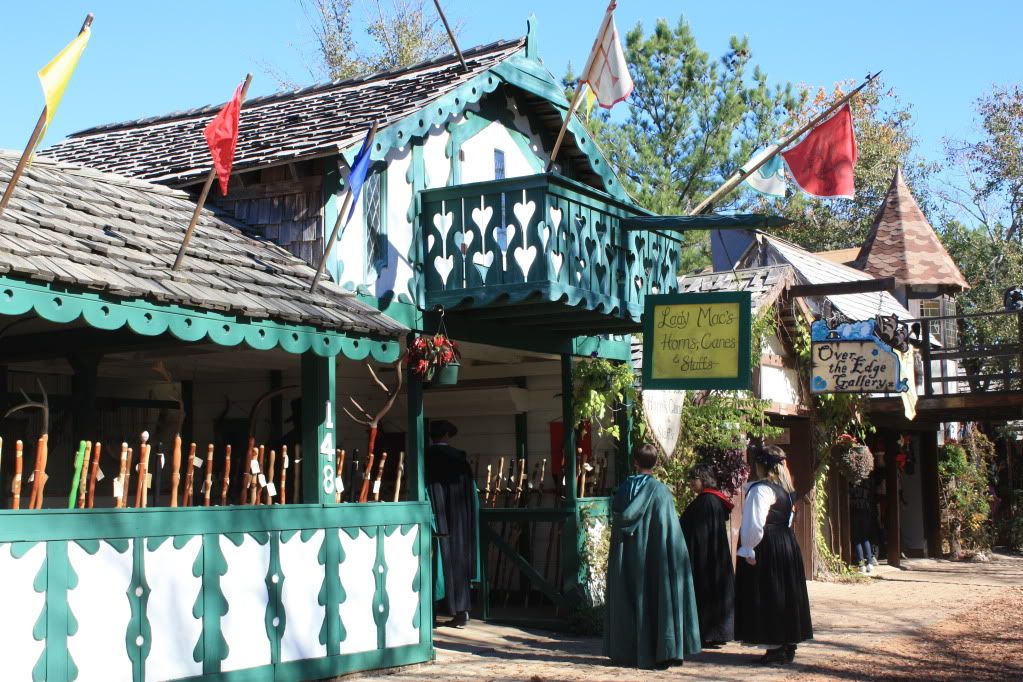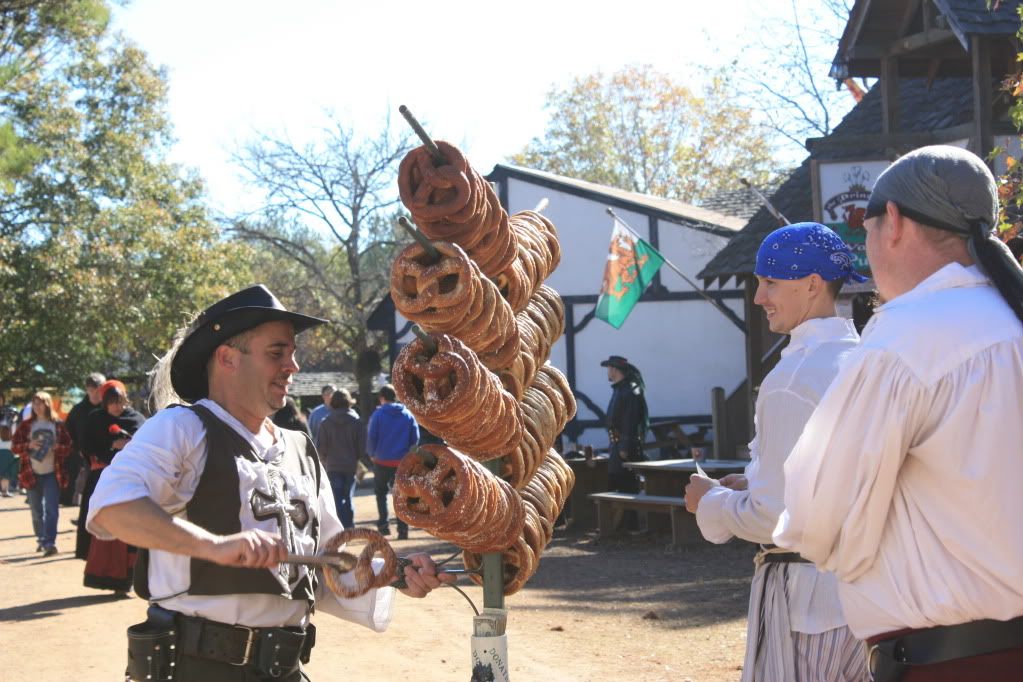 Husband liked the large soft pretzel carriers
One of the things I found most amusing was The Cage.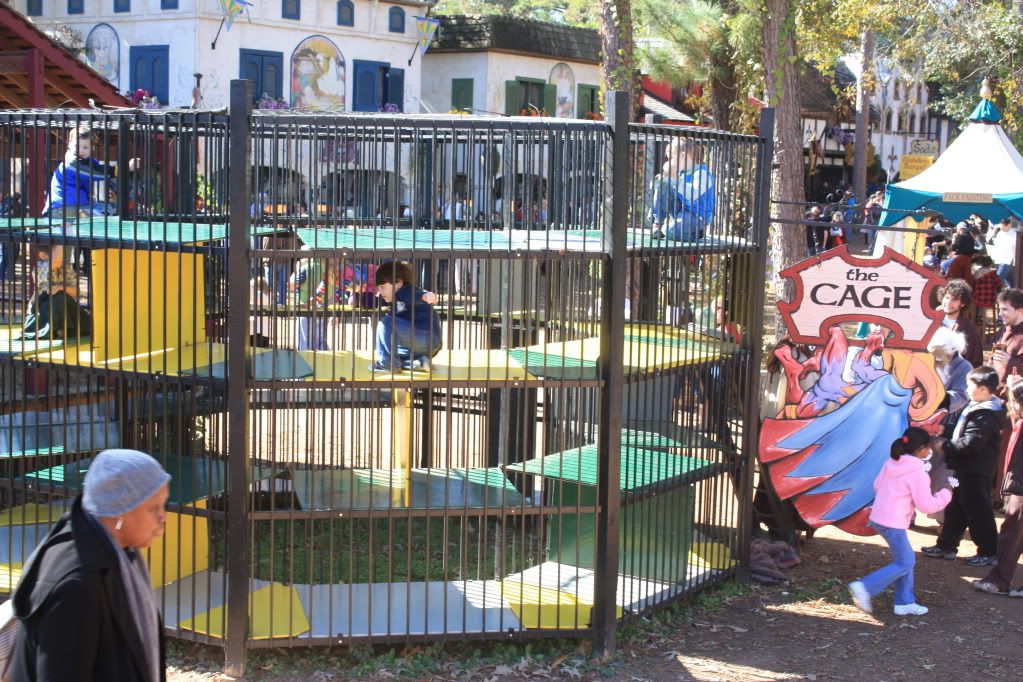 It was really just a maze for little kids, but it really looked like people had just locked up their little ones for the day so they could explore the festival in peace.
Of course there were lots of people dressed up, but rather than being purely Renaissance, it was more like "dress up in any fantasy costume, as long as it somewhat relates to Europe at any point in the past"
But then there were also people with just tiny strips of chainmail covering only the necessary bit, a Storm Trooper, zombie old-timey people, steam-punk, fairy wannabes, goths, and lots and lots of ... furries?
And loads of very unfortunate boobies being pressed into awful shapes and forced into 10 times too tiny corsets.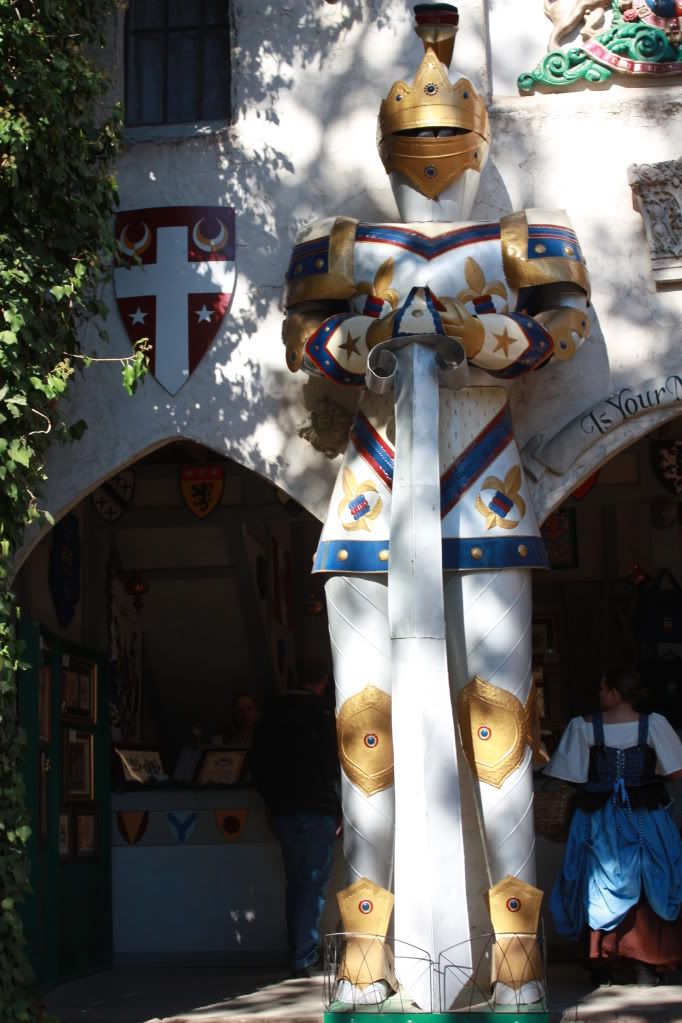 Foodwise, most of the places sold the same thing, which was typical fair food - funnel cakes, fried cheese, turkey legs, etc. There was one place with a Polish twist where I had potato and cheese pierogis. Then I ate this monstrosity of a dessert: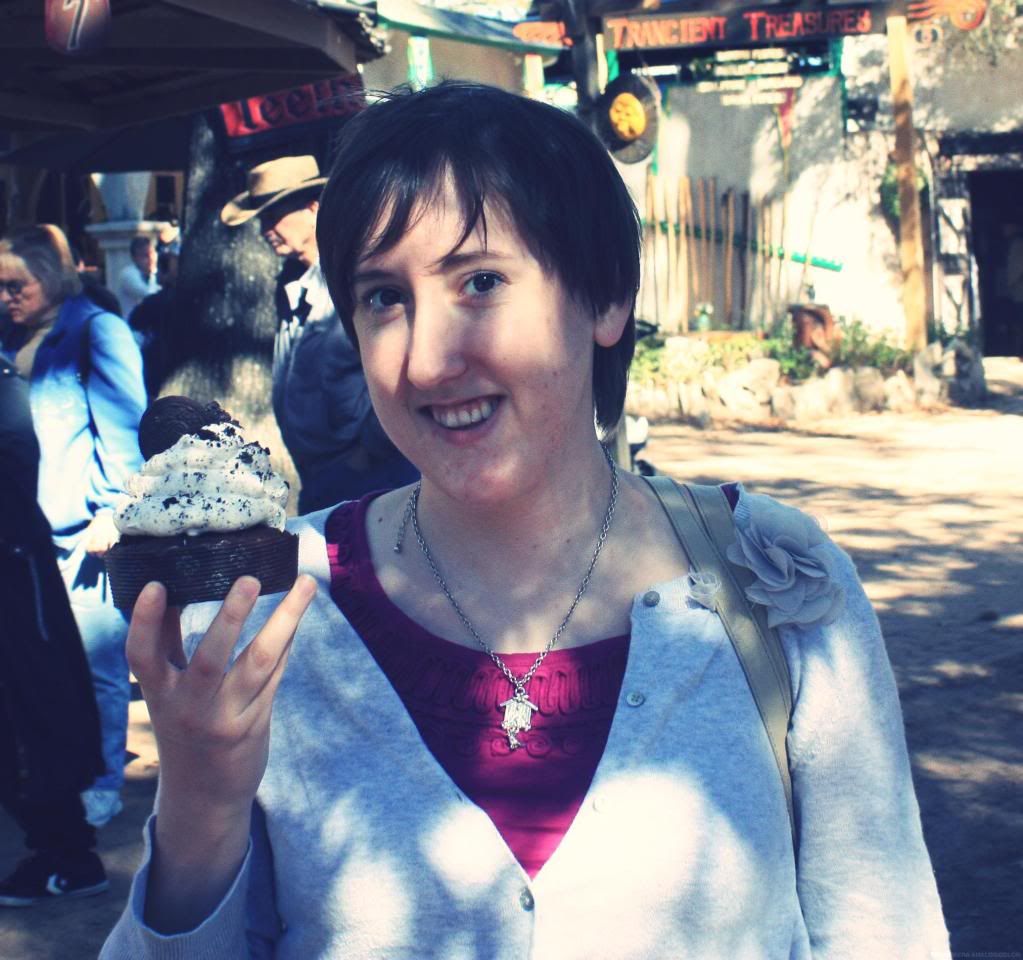 A large brownie topped with inches of Oreo mousse topped with crushed Oreos (and a whole one too!)
After eating it we watched a jousting match.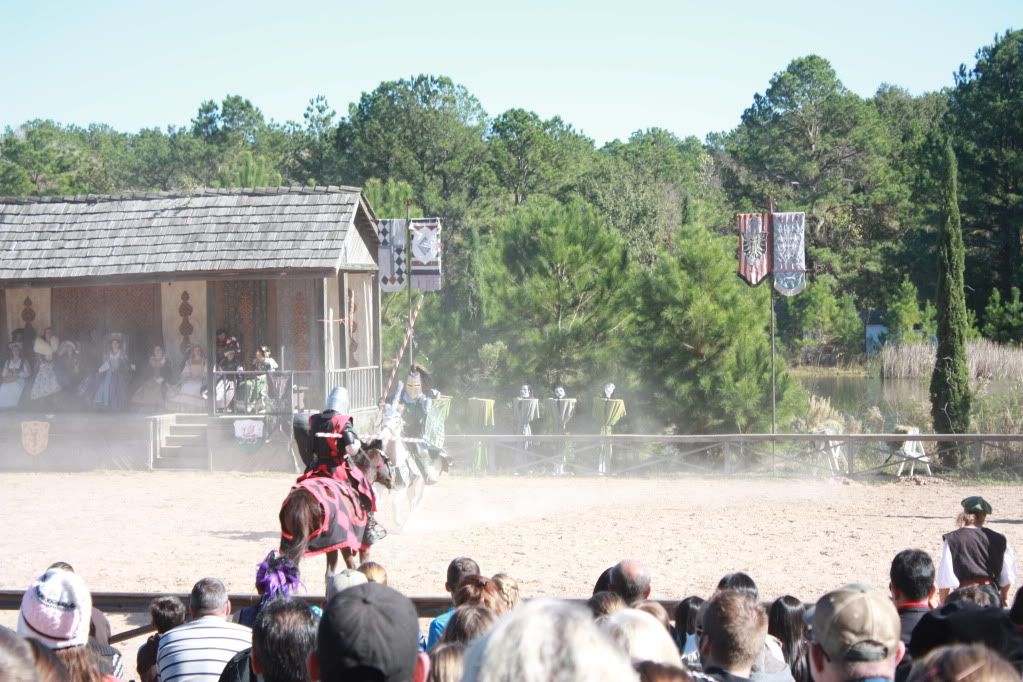 Then I had a bad sugar crash. We walked around to see the other places we hadn't looked at yet, but I started to get cranky, especially because it was getting very, very crowded.
We left about 2pm and there was a river of people just heading to the festival. Although it would have been fun to stay until the end at dusk for the fireworks, I can only imagine the gridlock and headache trying to get out of there at the same time as thousands of other people.
On the car ride back Husband snapped photos of things he found funny or interesting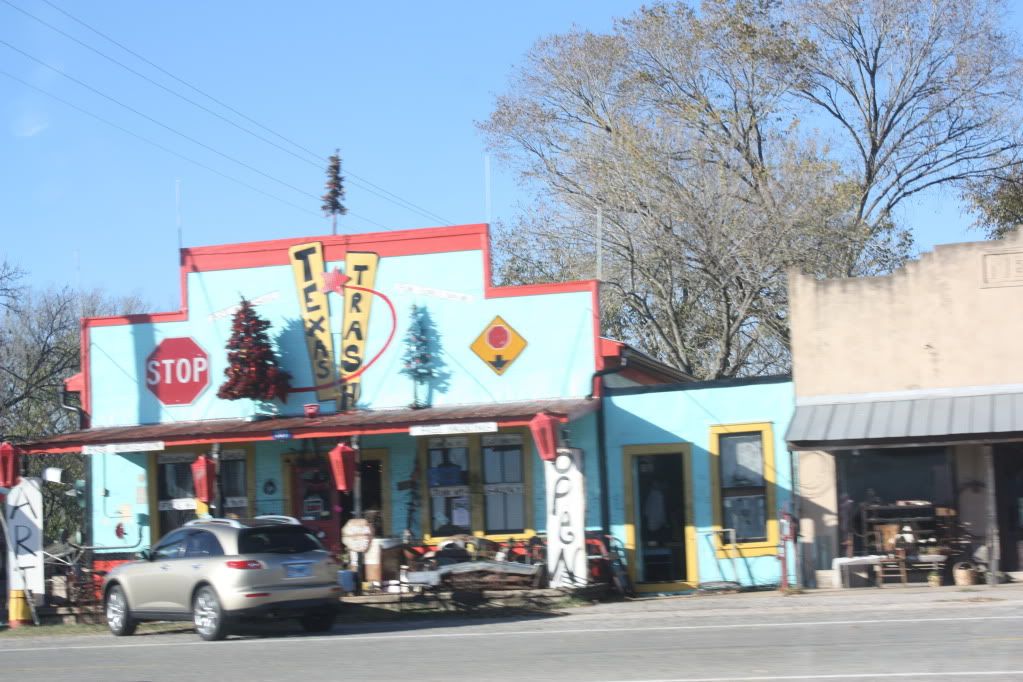 Texas Trash
OMG! LOL! IT'S A BEAVER!


Big Daddy's Place - Antiques * Gifts * More
Texas Independence Trail. kind of looks like a Russian propaganda poster


u wash m