Saturday evening a good friend came over to watch random stuff on Netflix streaming. After a little vegging out in front of the TV, we decided the night was lacking something.
Something sweet.
Something doughy.
Something... gluttonous.
Lucky for us, on South Lamar there is a food trailer. A miraculous food trailer. A food trailer with such tantalizing concoctions as fried dough topped with caramel, pecans, banana and graham cracker. or topped with fudge icing, brownie batter, and chocolate covered brownie bites.
That place, my friends, is
Gourdoughs
.
I made the mistake my first visit of thinking I could eat a whole one myself. Oh, the cockiness of youth! (or...uh... one year ago...)
This time the three of us shared two orders between us. We probably could have been happy one just the one, but it was my friend's first time there, and there are still many combinations I haven't tried.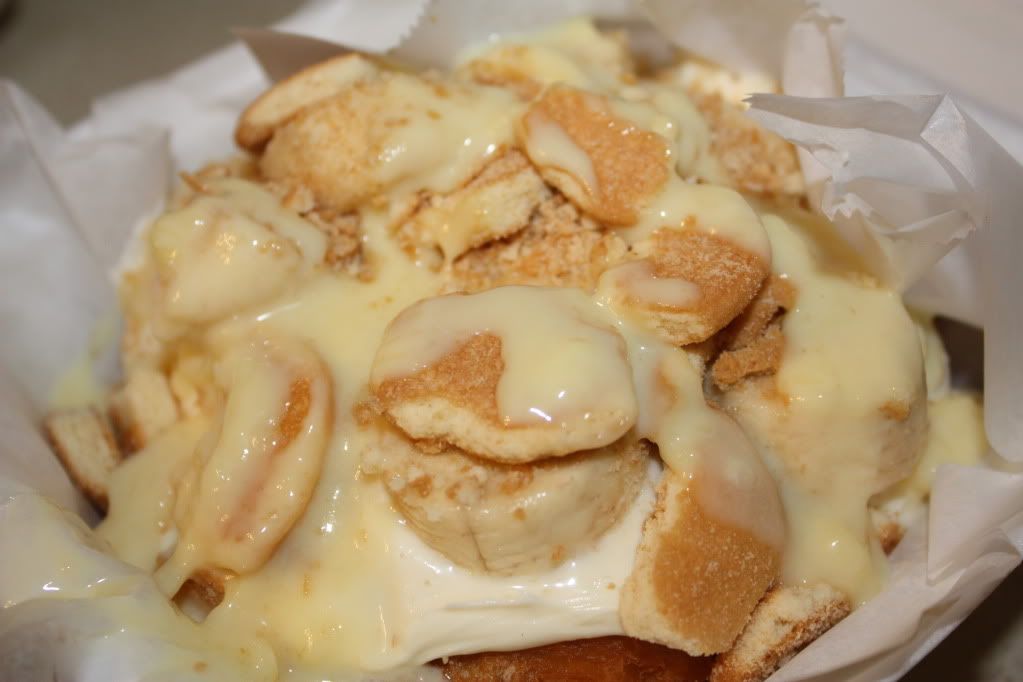 Feast your eyes upon The Puddin'!
The Puddin' is probably my favorite of the flavors I have had so far. It consists of a donut (obviously) filled with cream and topped with cream cheese icing, bananas and vanilla wafers. The cream, for me, was the best part. It sort of reminded me of the warm custard you get on desserts back in the UK.
We also tried an order of Blue Balls.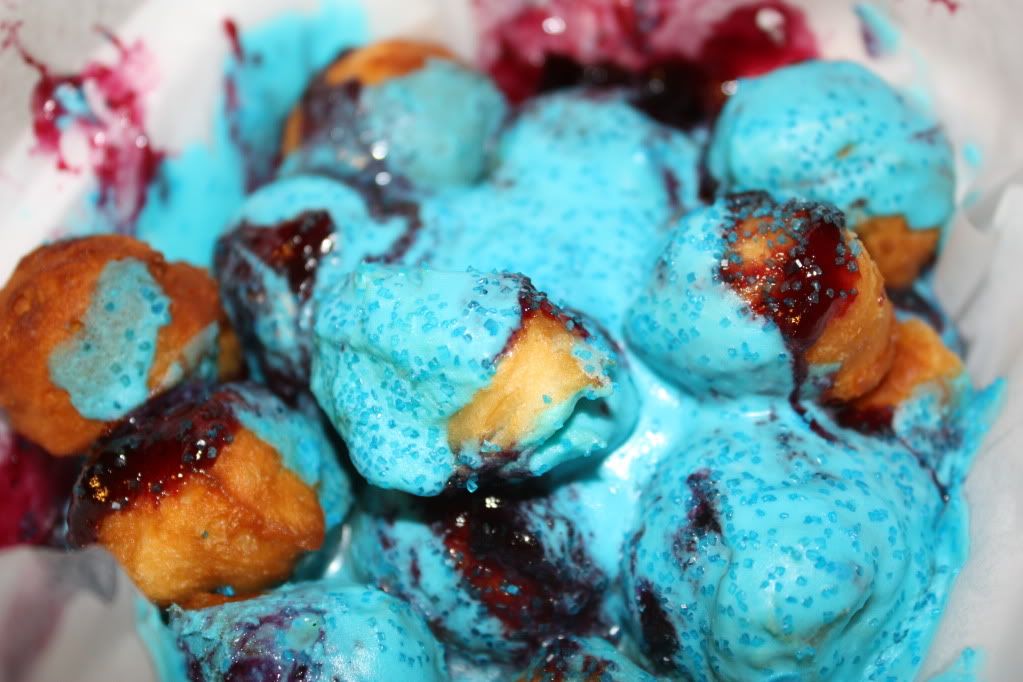 Yup.
When I placed my order, the employee (or owner?) said, "Hey, I saw you are
Schlitterbahn
this summer talking about our trailer" and then he looked at my husband and said "and you were with her!"
Wow.
When I worked in retail I would regularly go look for items for people and if they walked away from the customer service counter, I would forget what the looked like and wander around the store asking customer who matched the original customer's age range/gender/race if I was helping them. I am terrible at remembering names and faces. I can't believe that he could recognize me several months on from a fleeting conversation at a theme park filled with hundreds of people being noisy. Wow. Very impressive, Mr. Gourdough's Man!
Anyway, if you are in Austin or ever visit, make sure to plan a stop at Gourdough's (they are open until 3am on Fridays and Saturdays!). You can get dinner beforehand at the Odd Duck trailer next to it, which serves locally sourced produce, cheeses, and proteins.