There are several upcoming things that I am excited about this week.
First - seeing Harry Potter and the Deathly Hallows Part 1 at a midnight showing on Thursday at the Alamo Lakecreek. Unfortunately the other Drafthouse locations were sold out by the time I tried to get tickets, but at least I got some for the midnight show and at least it is at *an* Alamo Drafthouse.
Second - Husband and I have tickets to see
John Oliver
on Saturday at the Paramount. You might know him as the English correspondent from The Daily Show with Jon Stewart or from Important Things with Demetri Martin or from Community.
Third - this Saturday and Sunday, EtsyAustin is hosting the
Austin Craft Riot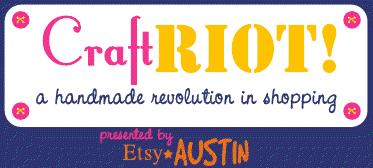 Why wait until Black Friday to start your Christmas shopping? And why fight the massive crowds for made in China goods when you can browse locally made, handmade, vintage and recycled products? Plus get a photo done in a photobooth and sip cocktails?
You can also check out the types of vendors who will be there ahead of time by checking out the
EtsyAustin blog
.
Plus the first 25 people in each day will get a EtsyAustin Craft Riot gift bag...but you might have to fight me in line for one! You better believe I'm lining up early for that.
Oh and did I mention it is free to get into!? I hate places that charge you entrance for the "pleasure" of spending more money. In this day and age of the internet, I can shop from them for free in my house on my own time and use the money that I would have paid on the entrance fee to actually go to the local vendor. /rant
The Craft Riot will be Nov 20 and 21 from 11am to 6pm at The Marchesa at 6406 N I-35, Austin, TX 78752