The theme of this outfit was black bows. I love the shirt I'm wearing but I didn't get any good full outfit shots.
This afternoon I caught an acoustic set by Summer Camp at
Red House Pizzeria
I wonder if it is weird to be such a cute couple but to play mostly break-up songs together?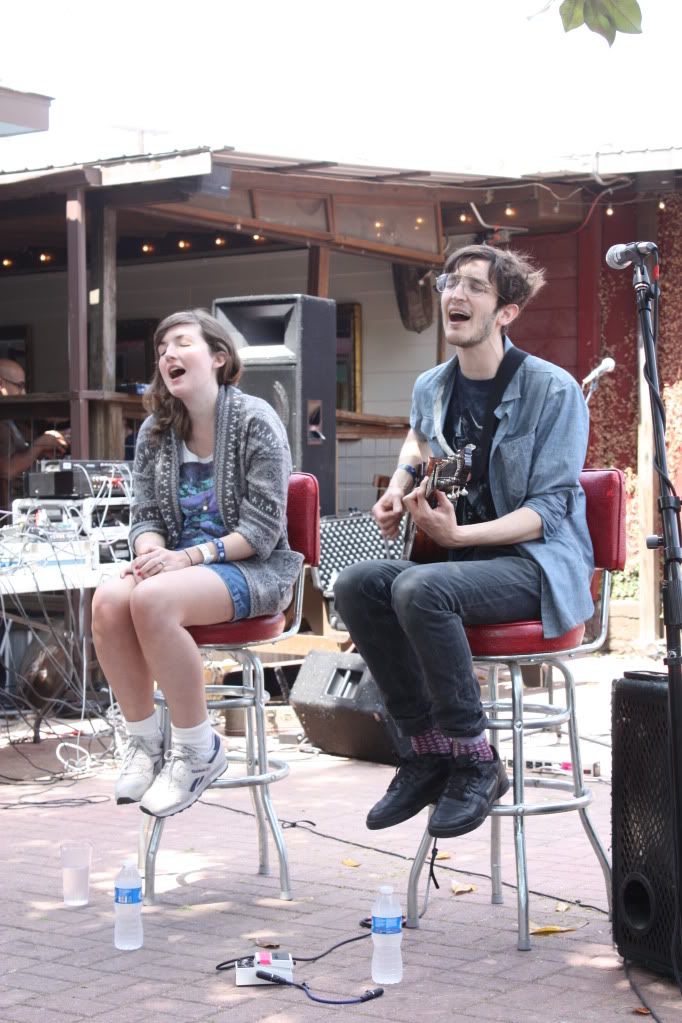 When I got home I proceeded to download all of their their songs off iTunes. Cause I'm lame and didn't already have them.
Later I took my bike out and made to the Convention Center right as the "Technology is Cool, but Technology+Fashion is Cooler" panel began. The panelists were:
- Indiana Adams:
blogger
& co-founder of Texas Style Council
- Marissa Evans: CEO/founder,
GoTryItOn.com
- Kelly Framel: creator/designer,
TheGlamourai.com
- Devin Hunt: co-founder,
Ly.st
- Syuzi Pakhchyan: author,
Fashioning Technology
- J. Erik Schaeffer: CEO/co-founder,
RetailrApp.com
&
DoubleStereo.com
Below is a recap of the discussion. I was trying to take notes very quickly, and hopefully I am attributing the ideas to all the correct people (I also missed the introductions, so I hope I'm right in thinking who is who). There are some that I forgot to take down who said what, and these are mostly paraphrases of what was said.
Why does technology matter to fashion?
-The internet gives a voice to regular people, and in terms of influence puts them on the same level as the major fashion houses. (Devin, Ly.st)
-Fashion and technology have had a long history together, especially in regards to production, such as sewing machines. (Syuzi, Fashioning Technology)
-The internet provides consumers with a channel to access their favorite brands and to interact with the brands as well as other like-minded people.
What is the future of technology use?
-What is missing right now is the tactile feel: to be able to touch and know what a fabric and item feels like. In the future consumers should be able to get an idea of what a product feels like, and can look like. We'll see more of programs/sites where you can superimpose clothing over pictures of yourself that you have uploaded to get an idea of what they'll look like on you.
-From her own experience, what is important is not a fashion house telling her what to wear, but seeing what other people are wearing around the world. (Kelly, The Glamourai)
- It used to be that you would read fashion magazines, but now you can check out someone your own size on a blog online. The internet is changing how consumers buy. People no longer just read content, but they create it as well. (Indiana, Adored Austin)
With the ability to watch fashion shows online immediately instead of having to be present in places like Milan or Paris and without having to wait months for it to trickle down through magazines and eventually into stores, could this be the end of big designers?
-Designers can now benefit from instant opinions. If there is a lot of buzz around an item or if people really love this dress or that bag, they can decide to run with that.
-
Fashion needs to catch up with how quickly clothes should be released after they are shown in fashion week.
Typically there has been the "6 month wait" between when clothes are shown and before they are readily available in stores. How is technology affecting this?
-It is now common to see more photographers taking pictures of people outside the fashion events than at the runway. People are interested in what others are wearing on the street. (Kelly, The Glamourai)
-It is changing how clothes are being produced. Designers are using different materials to get clothes out there. (Syuzi, Fashioning Technology)
How will technology influence people who want to become fashion designers?
-It makes it more accessible. We will see more local brands starting up, interacting with, and selling in local communities.
-Distribution is getting cheaper. Etsy has made it possible for anyone to start up an online store and get customers worldwide. As well as it has gotten easier to have a small boutique and to sell in a community where the demand will not overload your self production.
With all the online inspiration, how is it affecting trends?
-You can out what people are wearing across the globe. There is a discovery process involved. Designers can go online and be influenced by the public. (Marissa, Go Try It On)
This is the first time style has been incorporated into SXSW, why is it just now combining?
-Fashion has isolated itself for a long time, but it makes sense to merge style and sxsw
How will technology help to make fashion more open?
- Sites like Threadless have opened up doors into fashion for people who might not have ever entered the fashion world such as graphic designers. ( J. Erik Schaeffer, doublestereo.com)
-There are microstyles around the world that you now have the opportunity to view using the internet
What advice would you give to emerging designers who are trying to improve their brand?
-Have an e-commerce presence online: it can make you a global online shipping conglomerate. (Devin, Ly.st)
-Manage your online reputation. Know what people are saying about you. If people really like an item, know how to prolong it's hype, or bring out similar items and styles. (J. Erik Schaeffer, doublestereo.com)
-Don't be intimidated. Start somewhere. Anywhere.
Baby steps add up to big steps
. (Marissa, Go Try It On)
Audience questions
Out of the thousands of blogs available online, how do you stand apart?
(directed at Kelly and Indiana)
Kelly: In the beginning [she] was very casual with pictures. Now [she] tries to think like a fashion magazine- how and where to shoot. [She] is always striving to create better fashion stories and improve content
Indiana: takes a more casual view. accessibility is important. you have people who are very much in control with their content in the way an editorial shoot is conducted vs. the girl next door who is in her same price point showing affordable fashion that is accessible to regular girls.
A business to business question asked by a Facebook video game developer about how to get traditional clothing companies more involved with online opportunities. Do you just have to wait for them to catch up with the times?
panel was a bit stumped
-
The major fashion houses are very protective of their goods and their brand. They are also resistant to the changes the internet has brought. (he then quoted a fashion house that said "we don't know about this whole internet thing" which illustrated their reluctance to change) -(Devin, Ly.st)
- Look to Asia to show the possibilities of what can be done. There are a lot of exciting and innovative things coming out of that part of the world at the moment (Marissa, Go Try It On)
Is anyone shocked by how long it has taken SXSW to get with fashion
Indiana talked about how she hosted a fashion brunch last year out of her own pocket and it sold out in one day and had a wait-list of 50 people. Then this year she started the Texas Style Council Conference, and it too sold out, and there were people who flew in for it from places like Canada. It also had a 50 person wait-list. People definitely want it and are interested.
How will technology help fashion open up to the lower and middle class?
-
With how quickly trends are developing and how much easier it is to view new designs, places like Forever 21 can see new items on the runway and have a knock-off ready and in-stores very quickly. This is, however, creating a culture of disposable fashion, so designers must be a) innovative and b) strive for
quality
goods. (Indiana, Adored Austin)
What is up and coming in the start-up market?
-
Fashion 2.0. Sites like Polyvore. Google launching boutiques. Finding a way for people to see what they will look like in items, because if a consumer can try something on, they are more willing to buy it. The key is to keep the end user in mind. (Marissa, Go Try It On)
-Fashion is at a point where music was in 2000 with the advent of MP3s and the ease with which independent artists could record their music and distribute it to the public without the record label middlemen. Fashion is now a democratized system. There are so many tools out there for young designers to get started. (Devin, Ly.st)
(mostly directed at Marissa)
What is the strategy around the data you are collecting on the people who use your site?
- Users on the site upload photos and say where they will be going in the outfit and what brands they are wearing. The brands they list show what they are interested in, and down the line she hopes to have tailored recommendations of similar styles and brands directed to the users.
Question from Joah (who started Style X): Referencing the previous question that mentioned the middle and lower class shopping price points, when will the technological fashion items
(see my previous post that talks about the items on display at Style X that incorporate technology into the garment themselves
here
)
cater to them?
-Right now
the fashion that incorporates technology are one-offs and expensive because they are all handmade at the moment. It is hard to get the major fashion houses interested. The sporting industry will be huge in pushing the manufacturing process, since they are already using technology with fashion to help athletes. Once there is a demand, we will see more and more items, and the costs of making them will go down. (Syuzi, Fashioning Technology)
You don't have to pay to read blogs. An audience member asked how bloggers can afford to do what they do
Kelly: she is still trying to figure out how to best monetize her blog. She uses brand collaborations and advertising as well. Tries to look at the big picture and advises finding many avenues of monetizing a blog so you don't have to rely on just one because each way can vary from month to month in revenue. and you have to find what works for you that you can maintain your integrity.
Indiana: when you have an audience that you have built up, you have the power to say "No". Every blog has to know how to stay "me". She advises to only advertise products and items that you would actually use and wear. She has a rule that if she doesn't have the money in the bank to buy the item then and there, she will not promote it.
A man who runs a company that educates against the conflict in Congo which is caused by mining materials that are used in Western hi-tech like computers. He wanted to know how fashion is influencing technology.
-Fashion is finding ways to create more sustainable fibers, such as the dress on display at Style X that uses nanotechnology to color it rather than dyes, which can help change how the fabric is produced in a more sustainable way. Solar powered textiles are alleviating the need for batteries. (Syuzi, Fashioning Technology)
How would a consumer approach the website owners in the panel to say "what does your data from your site show? wha
t
trends are you seeing?"
-The sites are still in their early stages. Right now [Go Try It On] has a blog that showcases trends they are seeing around the world. For example if floral skirts were suddenly showing up in Tokyo, in Austin, in New York, that would be interesting and they would want to ask why. They do take some of what they see from their data and editorialize and show their content in consumable ways (Marissa, Go Try It On)
-
When she works with brands, she monitors her analytics and can give companies very specific reports. It is important to see exit link clicks and monitor the numbers yourself so you can give brands exact numbers of what to expect if they work with you on promotions. (Kelly, The Glamourai)
~*~*~*~*~*~*~*~*~*~*~*~*~*~*~*~*~*~*~*~*~*~*~*~*~*~*~*~*~*~*~*~*~*~*~*~*~*~
After the panel I headed home for a bit. When I arrived I stripped down a bit and just stood in front of my air conditioning vent arms out trying to feel human again. It's only March! I am not built for heat!
For dinner Husband felt like fast food so we walked down the street for some junk. There is a little bridge that we crossed that someone had stacked up tons of rocks on top of each other so there were loads of piles standing precariously.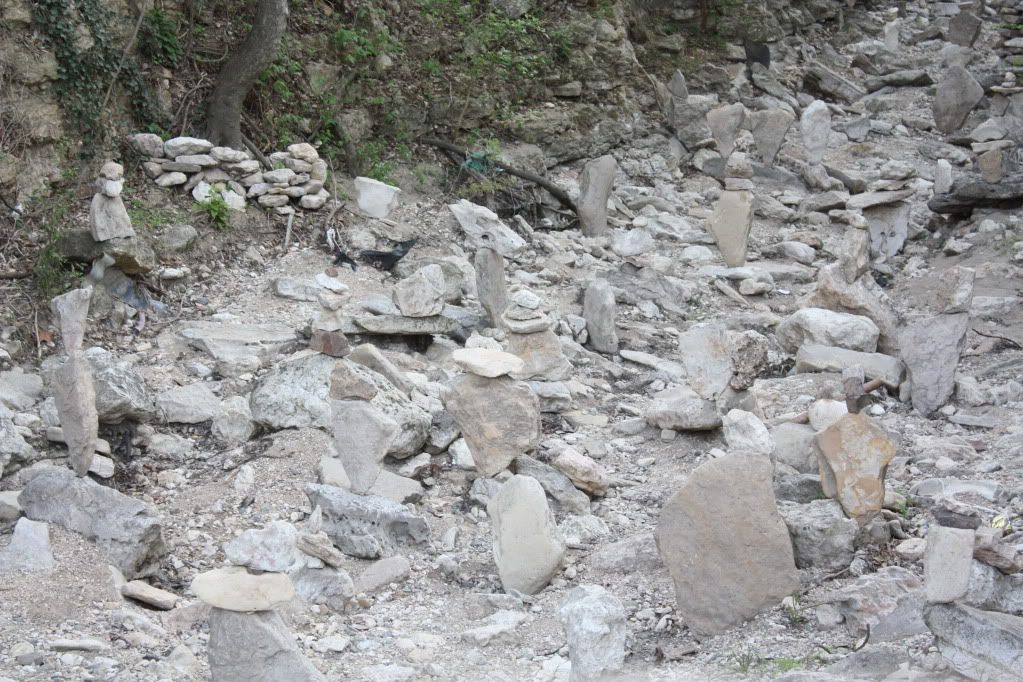 I know this is a lot of gray, but I hope you can tell what I'm talking about
I was so random that someone spent so much time balancing them on top of each other.
When we got out food we heading towards Auditorium Shores to watch Bright Eyes. I saw him once before, 6 years ago. Again we sat on the lawn of the Long Center, because I couldn't be bothered to deal with anymore crowds.
He played for almost 2 hours and had a good mix of songs from different albums. Husband was happy that he played a lot from
Digital Ash
.
At the end, just like for the last two nights it ended with a fireworks presentation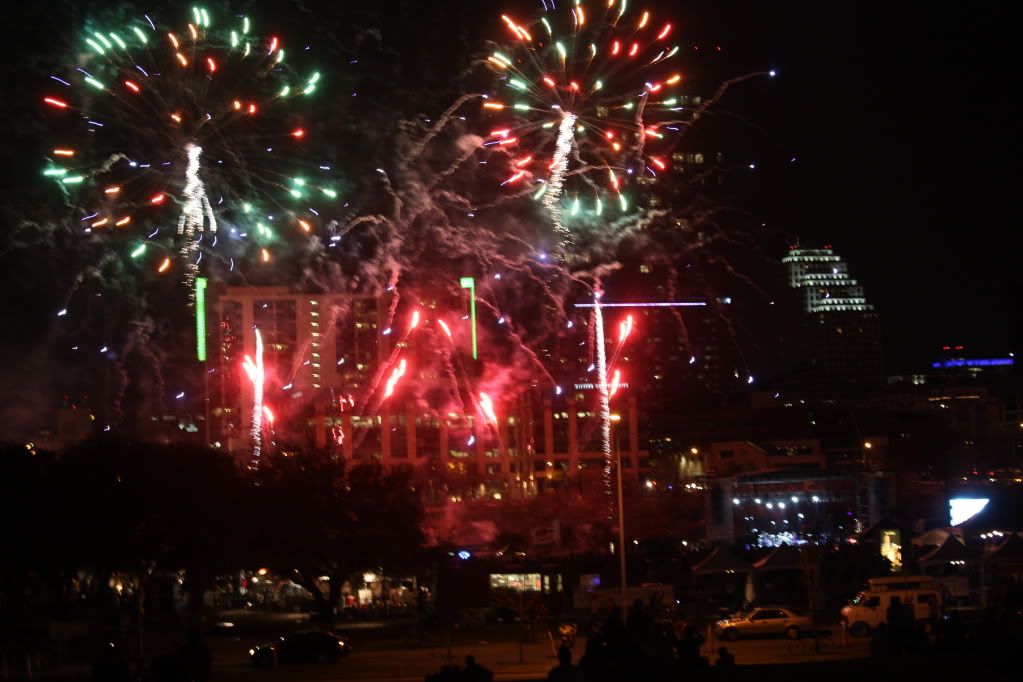 The fireworks tonight were actually much better than the ones put on by the city for July 4th. There was lots of oohing and ahhing from the crowd.
I was thinking of going to the PureVolume house this evening to see Owen Pallett (yes, again.) but I'm so exhausted. So that is it for me for SXSW 2011! It was a great one!
Tomorrow will be spent cleaning, doing laundry, grocery shopping, and doing all the routine things I have neglected this week.