I worked my regular workday on Monday, then stayed up all night for a promotion to get VIP lounge wristbands for the Fader Fort.
surprisingly chipper for 4am and 47 degrees
There was a little bit of a mix-up between Fader and Fiat, but it all worked out in the end. This was going to be a big rant, but the girl from Fader was very apologetic and sweet this morning while getting me the wristband, so all is forgiven.
I was able to sleep for about 2 hours on Tuesdays (after being awake for 26), then when Husband got home from work we headed to the IFC Crossroads House where we made it in time to check out the Beard and Moustache Contest with the
Austin Facial Hair Club
who handed out moustaches upon entry
trying to do my best frenchy ahawhawhaw curly moustache
The Crossroads House has two parts - the studio part where the cameras are and the stage and room for a small studio audience, and the outside part that has windows that you can see into the inner studio part, as well as video screens so you can see what is happening in the studio, and a bar. During the facial hair contest we were in the outer part, enjoying some beer and watching the screens.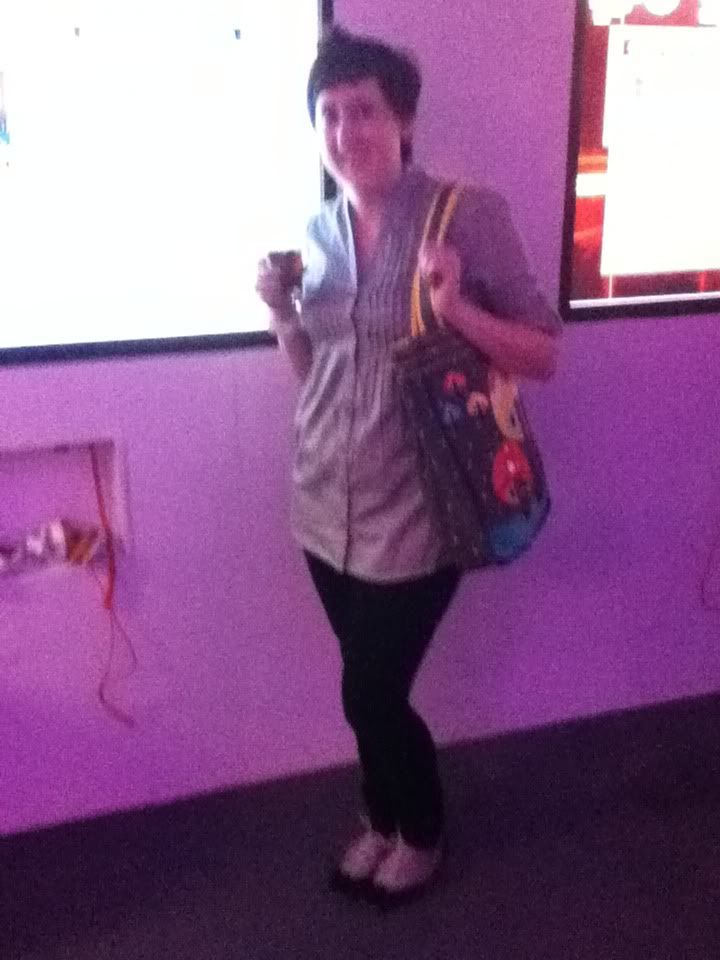 I've been carrying my new
ModCloth bag
that I won on Saturday. It is handy for transporting my big bike lock while I'm riding to each venue. I'm also wearing a
Forever 21
top and jeans from
Topshop
. I know you can't see the shoes very well, but they are blue and grey oxfords from
Urban Outfitters
.
After the beard/moustache contest we were able to actually make it into the studio audience for the Comedy Death Ray show. I was super excited to see Aziz Ansari, Michael Ian Black, and Dave Foley. I had seen Michael Ian Black before, and Husband and I wanted to see Aziz when he was in Austin a couple months back, but tickets were expensive and we wanted to see John Oliver as well. We ended up having to choose one and went with John Oliver, but now it has all worked out in the end.
Aziz! (again, no flash photos aloud, so not the best picture but that's ok)
If you keep an eye on the
IFC's site
you should (hopefully) be able to watch video clips soon.
I wish Michael Ian Black's and Aziz's allotted times were longer, but they were really enjoyable.