It's amazing how much walking on much less sleep than you're used to can still be fun when you have things to do and see.
Yesterday we headed to TxSCC headquarters so I could register for the scavenger hunt. Since the actual event wouldn't be starting for a couple hours we then walked to 5th St where we got free breakfast tacos and coffee courtesy of
GoToMeeting
at Nuvola.
On the tvs over the bar they had a live twitter map showing recent tweets and where they were occurring downtown. Husband tried to get his name and check-in on the screen as well by checking in on Foursquare, but it didn't refresh the check-ins while we were there.
Next we headed to 5th and Neches to line up for
SquareSpace
's trailer where each day (through March 14) they are offering different local Austin food for free starting at 11am. Then they have a photobooth where you can get a picture that will be entered to win a Macbook Air, an iPad, or an Apple TV.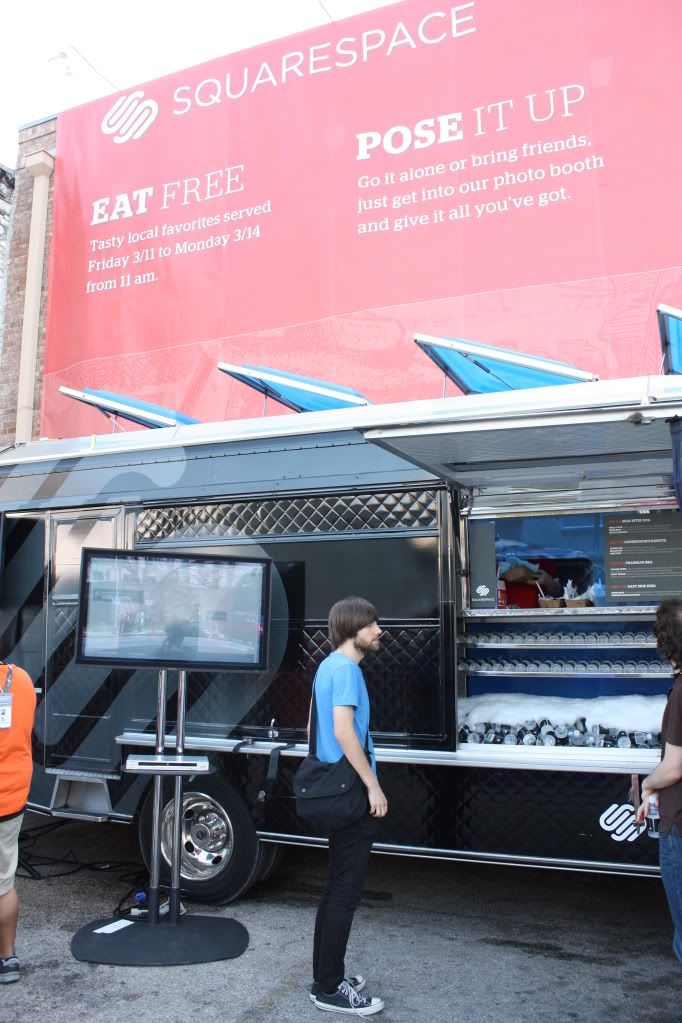 On offer yesterday was
Gourdoughs
donuts (which I've previously written about
here
). You had a choice between the Flying Pig (bacon and maple syrup icing), Black Out (brownie batter, fudge icing, chocolate covered brownie bites), or the Boss Hog (with potato salad, chopped bbq and honey bbq sauce).
We shared a Black Out between us, which we couldn't even finish.
While waiting in line we enjoyed the art installation on a nearby streetlight post.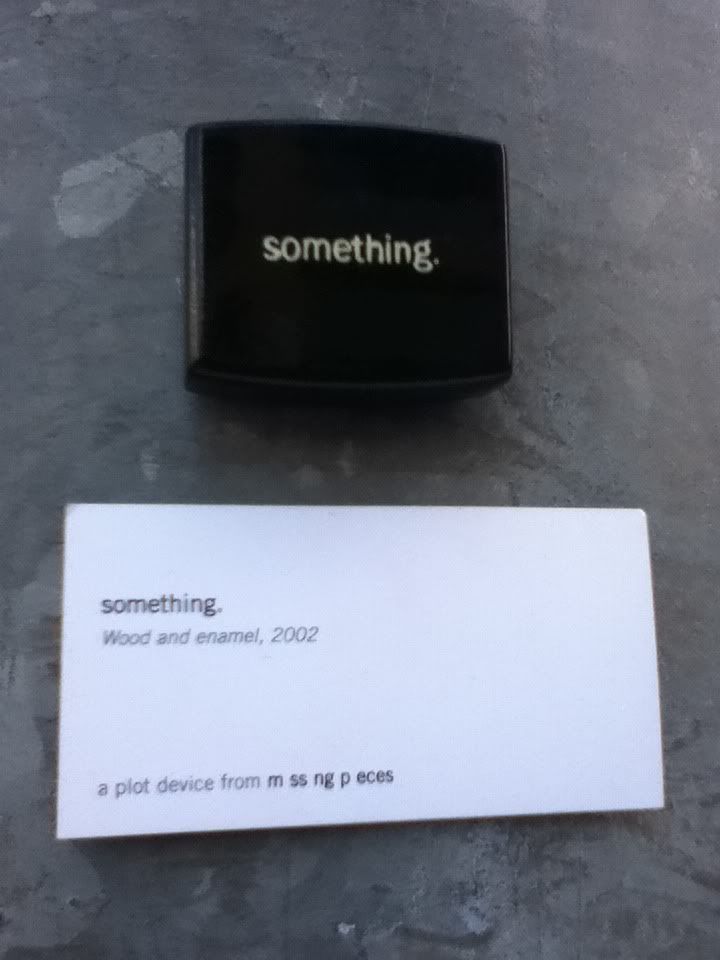 Next we headed to
Fado
because husband wanted to watch the Manchester United vs. Arsenal match which I stayed for most of before headed back to TxSCC hq.
The scavenger hunt was put on by
The Go Game
which is based out of San Francisco and puts on team building games for companies, conventions, marketing or fun. I ended up partnered with
Maybe This Door
and her friend, and husband came along to help photograph and operate the iPad since The Go Game is web-based. We were given log-in instructions and a camera that we would use to complete our missions.
It was so much fun running around the
2nd Street District
. Many thanks to
gallery d
,
Girl Next Door
, Langford Market,
mercury design studio
,
Dress Shop
, and
tart
for letting us run around your stores and for even getting involved with clues yourselves.
I will post more details about the scavenger hunt after I get photos back from The Go Game.
BUT! I am happy to report that our team came 3rd (out of 10 teams!) and got a nice little prize pack including a $50 gift certificate to
gallery d
, a cool cup from
BoConcept
, a pretty Jablonski crystal from (I think)
1020 Glass Art and Decor
, and a dog treat and shirt from
Lofty Dog
.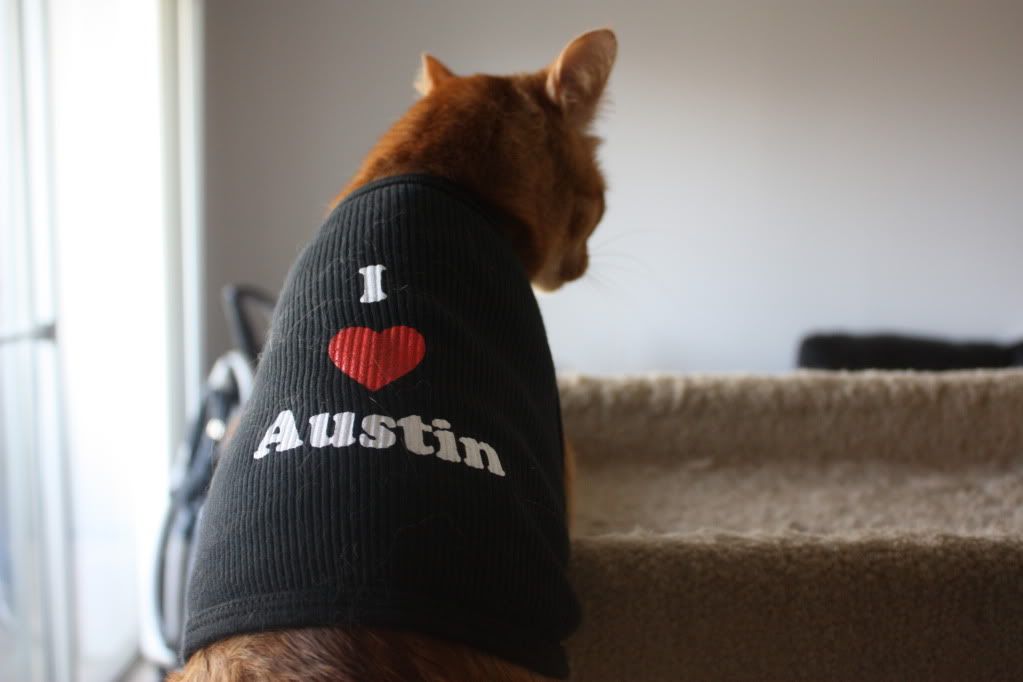 Rufus was nice enough to model the shirt.
After the hunt we headed home so I could nap for half an hour, take a shower, and have some dinner. My oldest brother called to say PeeWee Herman was on Congress Ave handing out ice cream, but we didn't have time to get down there, but it would have been pretty surreal.
After dinner we headed out to
BoConcept
for an awesome party.
ModCloth
had bingo cards with different outfit items that you had to find people wearing and have them sign off. It was a really great way to help people mingle, and a fun icebreaker.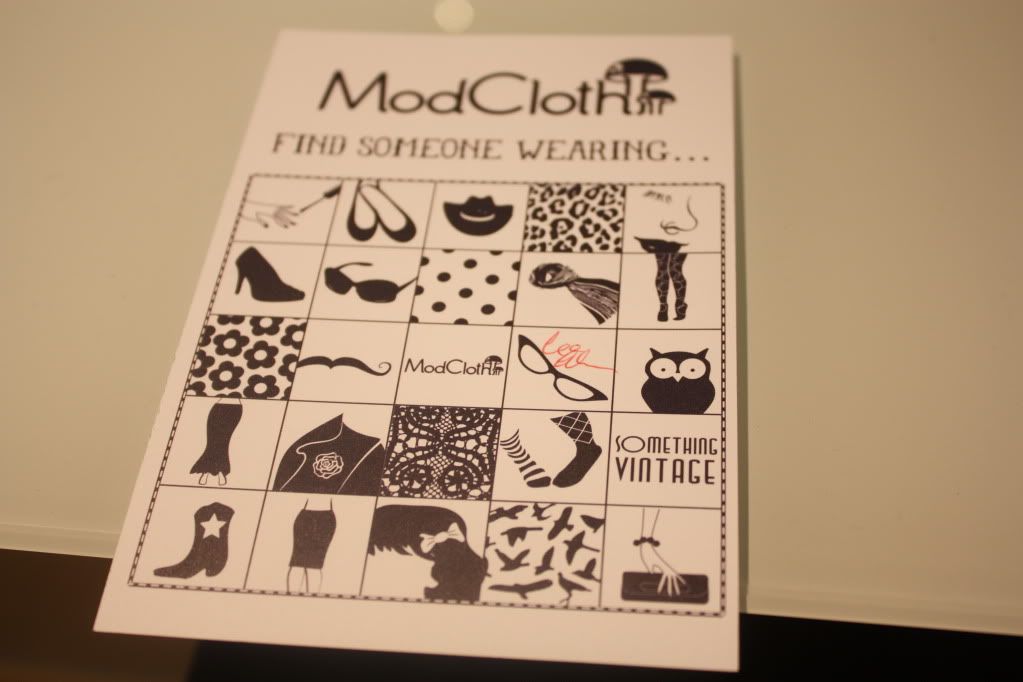 Tikkr
had set up cool 'curtains' made from their watch bands which we got a cool photo of trying out the special SXSW hipstamatic lens.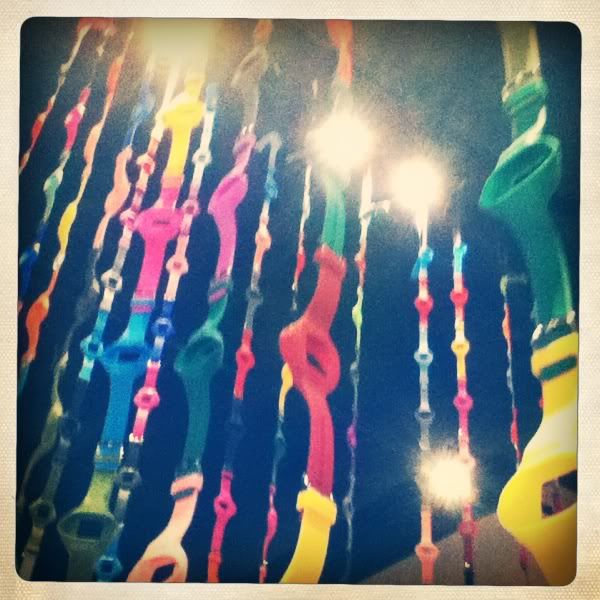 Charming Charlie
had a ring toss game set up where you tried to toss a bracelet around coke bottles. Husband wasn't able to win me a prize, but they did give us a consolation bracelet.
Lulu*s
had a prize wheel set up.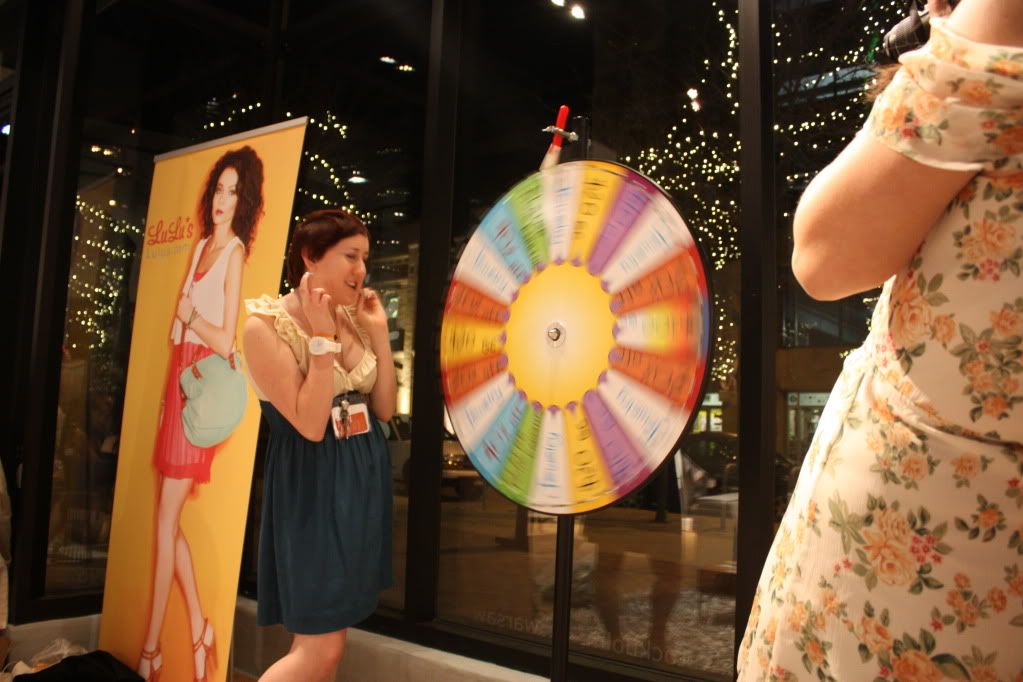 come on $100 gift card! come on!
I got to pick a piece of jewelry. I can't get earrings into my right ear anymore, so I had a choice of several bracelets and rings.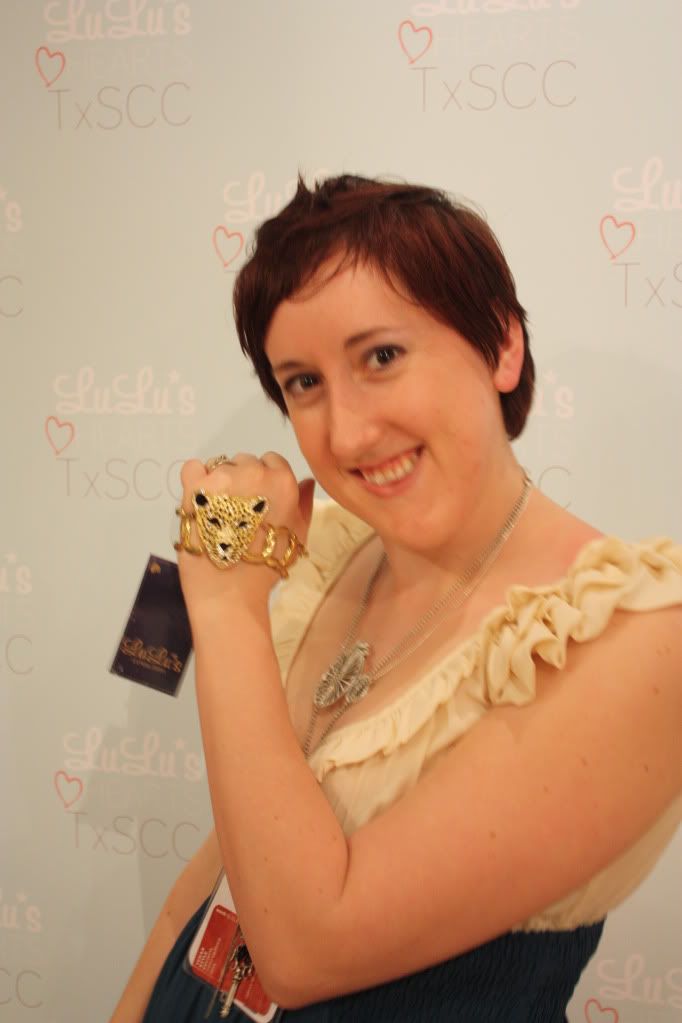 I went with this awesome panther.
And remember how I mentioned that
ModCloth
had a bingo game going on? Well once you got a bingo you could put your card in a drawing.
AND I WON THIS SUPERCUTE BAG!!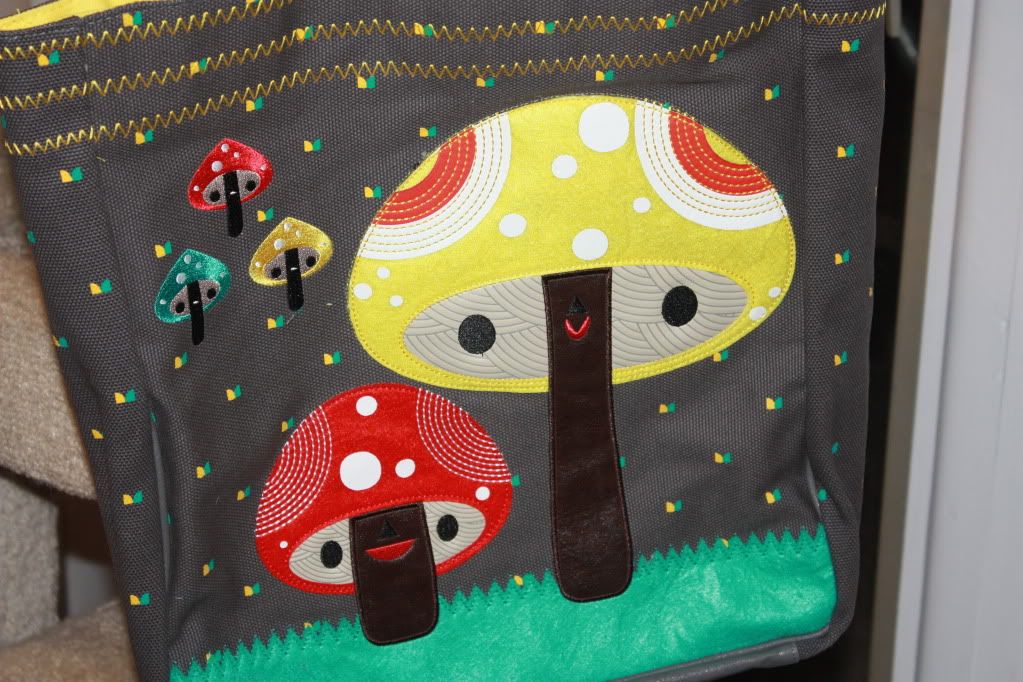 Husband had left the party about an hour previously because he was exhausted, and I was practically running home in order to show him.
It was such a fantastic day!
Now I'm off to shower and get ready for Day 3, which will mostly be conference panels, then the big Etsy event this evening.
So excited!