Both of my brothers are staying with us off and on throughout the week since we live much closer to the SXSW venues than they do. As I was about to leave this morning one brother arrived, and I asked if he would take a photo of my for my blog for a self style photo. He looked me up and down, wrinkled his nose, and said, "Are blue tights in style?"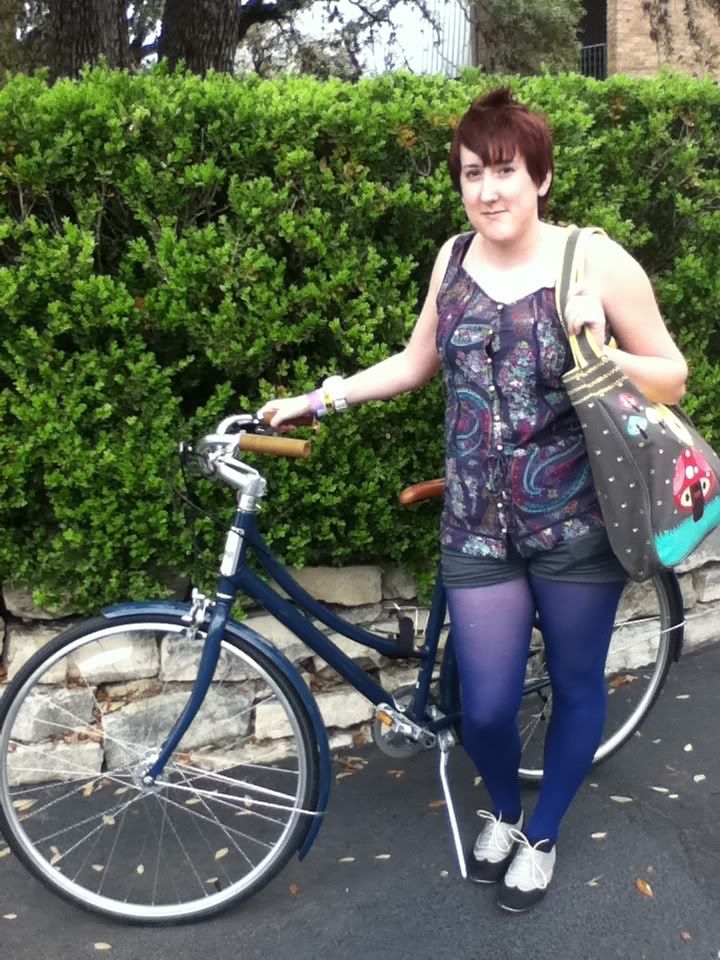 Most of my wardrobe is blue. My lovely bike is blue. I just really like blue.
But I had been unsure of the tights myself. What do you all think? Yay or nay?
I caught the majority of the set by The Violens at the Flamingo Cantina before heading to the Mohawk.
The first band I watched is called
Oberhofer.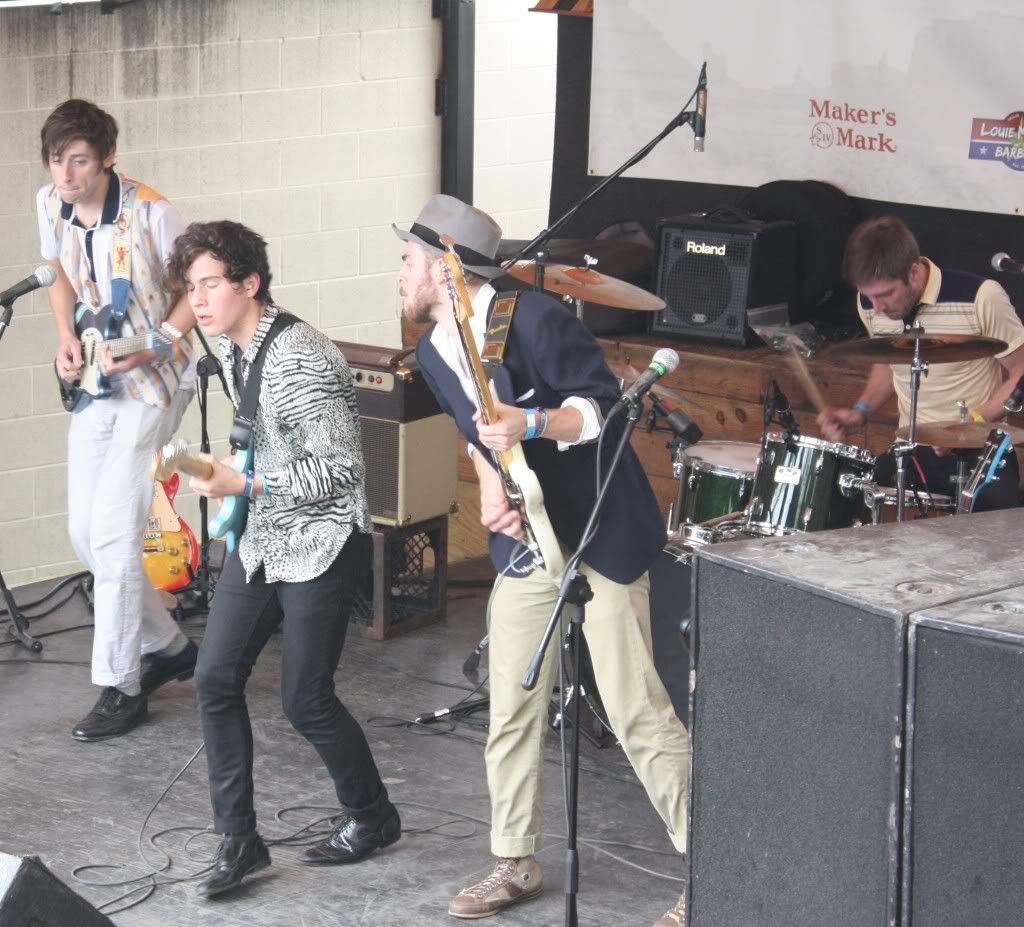 I hadn't heard of them before, but I enjoyed their set. Apparently they don't have a full length album yet, but hopefully one won't be too far down the line.
After Oberhofer I watched Owen Pallett, who is probably my favorite musician of all time. While gazing down at the crowd forming in front of the stage while he set up, a guy from the group next to me said, "Look at all the girls in the front. [the next act] must be a cute boy."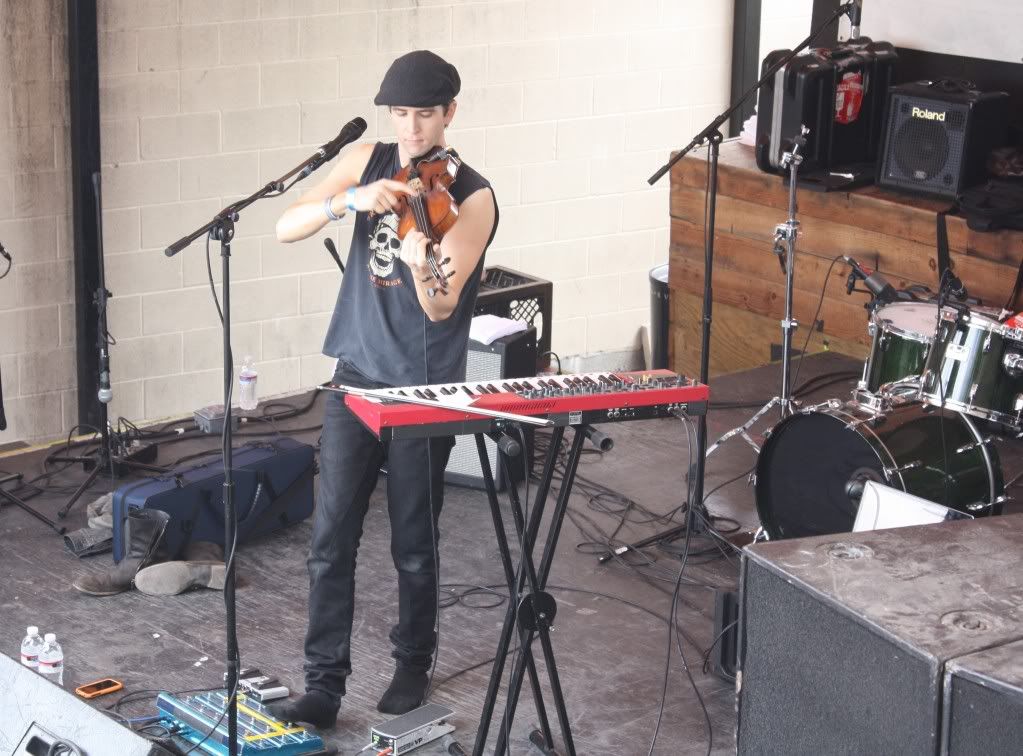 I talked to them about who he was, what he has done (he's done string arrangements for a lot of bands) and what type of music he plays. They stuck around to watch him, and I think they quite liked him.
Unfortunately I had to leave his set early in order to get back to the Flamingo Cantina in order to watch Sondre Lerche, who is way up there on my list of favorite musicians.
He played almost all new songs, a lot of which he was testing out playing live for the first time.
I first saw him in 2004 or 2005 after the release of Two Way Monologue, which is one of my favorite music videos
After his set I rode into East Austin in order to see the band Summer Camp. One half of the band is a guy named Jeremy Warmsley who used to perform on his own, and Husband was a fan which is how I heard of him.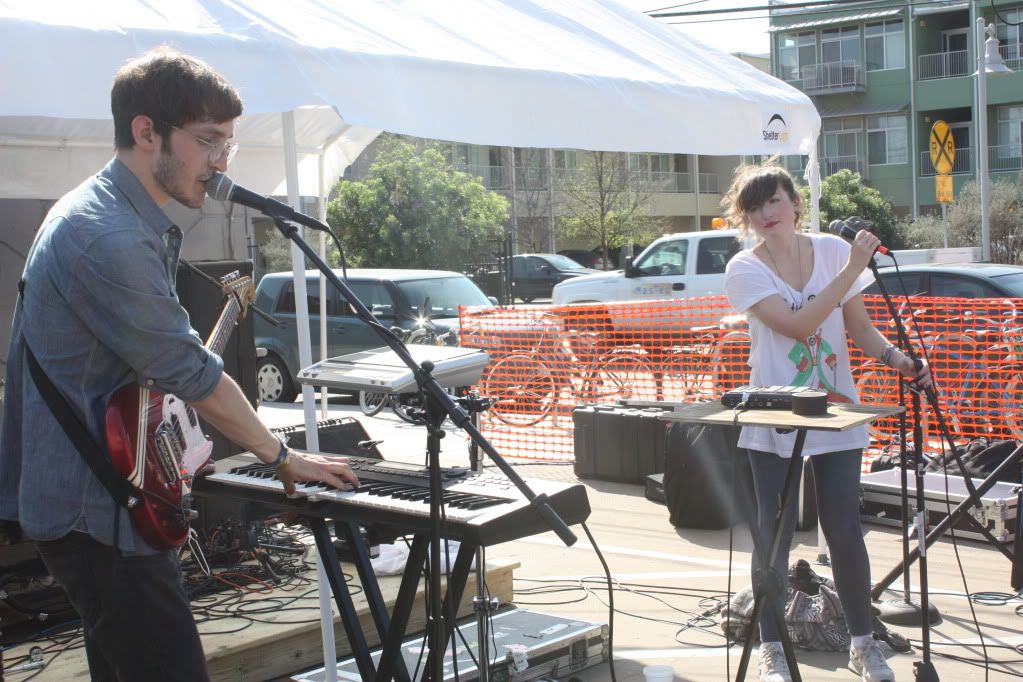 Their set was great, but Double Down Lounge had no shade whatsoever, and there was not a cloud in the sky. On the one hand I love seeing bands during the daytime during SXSW, on the other hand, even in March Austin is hot.
My shoulders are very pink tonight.
Husband rushed over after work and was able to catch the last couple songs of their set. We're going to try and see them again on Saturday.
We had some pizza at
Italo's
which Husband thinks is one of the best he's had here. I think he wishes we lived closer to them so he could eat it often!
Then we headed to Liberty in order to see...
Sondre Lerche!
Again! (but it was husband's first time to ever see him. ... ... and my 6th...)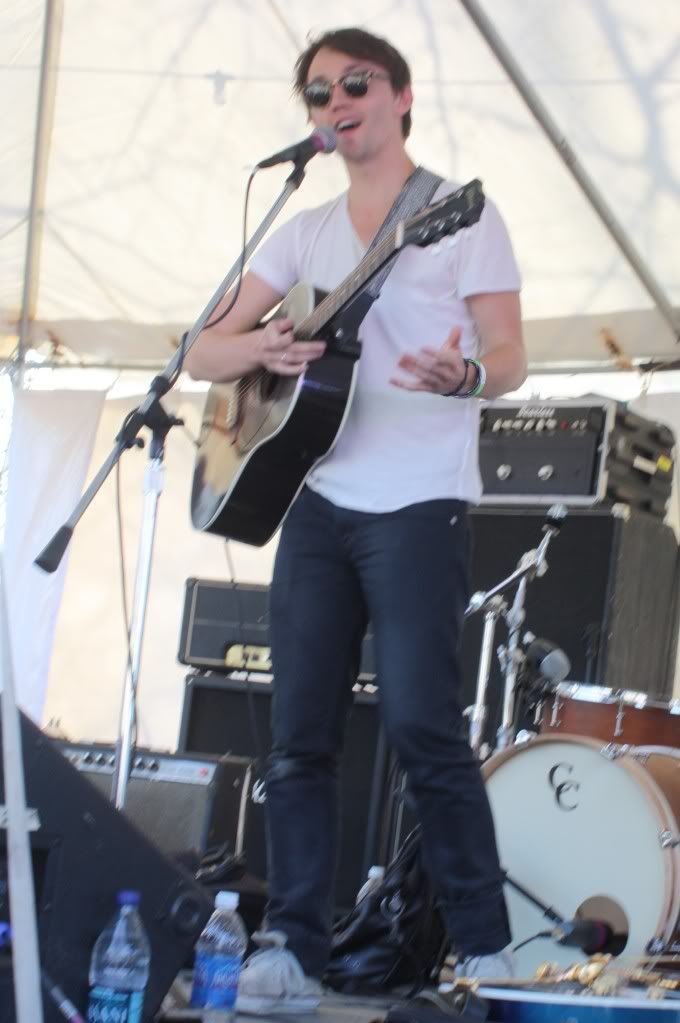 He played several of the new songs again until someone called out 'play a classic!'
And Sondre joked "like The Rolling Stones? ... oh one of my classics! cause I've had sooo many number ones!" Then he played a couple of his older songs and joked that one had made it to number 1 in 1500 countries.
Then we rode back to our place to grab some water, put the bikes away, grab a camping chair, and headed down to Auditorium Shores, where massive walls of people were moving towards. We decided that we would just sit on the lawn of the Long Center across the street, since it has a good incline, and there was no way we would make it near the stage. There was actually loads of room on the grass there, yet a huge crowd trying to push their way into the fenced in area. We heard chants of "let us in! let us in!" and watched people scale the port-a-potties in order to get in. Then they all rushed the entrance and tore down the gate. It was ridiculous. The place can only hold so many people. I think the crowd management was handled pretty badly. Maybe they weren't expecting so many people?
Riverside should not have been open. They close it down on 4th of July and other events, so why were they letting so many cars through? It all just seemed like a disaster waiting to happen.
The Strokes were good from what I could hear of the set. The speaker volume fluctuated a lot. We ended up leaving a couple songs early cause we heard most of our favorites, and it was all just a bit of a madhouse. We were able to hear the rest of their set from our place with the door open, so it was ok. Maybe we should have avoided the crowd entirely and just listened from our balcony.
Apologies if there are any misspellings or errors in this post like I found out there were in my last one. I'm running on low sleep/energy and trying to type these out quickly each night before sleeping.