You know it is SXSW when your wrist is covered in wristbands and stamps.
You might forget that your arm has a lot of ink.
And that you're sweating profusely while standing in the sun.
You might forget that sweat and stamps do not work well together.
You might forget...until you look down at your shirt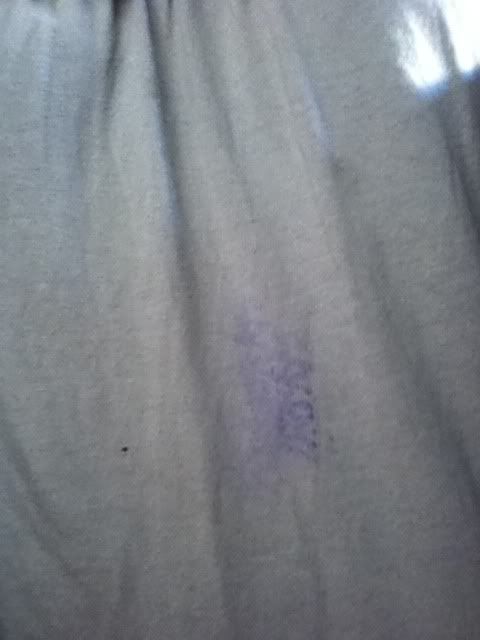 dang. right in the middle of my shirt.
First up today I headed to Flamingo Cantina for the Under the Radar Party day 2.
First up was Porcelain Raft, who I don't remember much of their set because I came in midway through and was checking out twitter, fb, etc.
After they finished there were some giveaways, and I made my way closer to the stage.
The second band I watched was called
Hooray for Earth
who are from New York. I hadn't heard of them before, but I enjoyed dancing a bit during their set. They had the two girls from
Zambri
singing with them.
Check out their song Sails on Myspace. I actually think the music was better live, which is always great when you can say that about a band.
After their set there were more giveaways from
Shure
, and I won some new headphones , which I'm super excited to use! I've never had such nice headphones before! In fact, looking them up online, I can't believe they were giving out several pairs in between each act.
They are really nice headphones, y'all!!!!
Next up came Owen Pallett. (are you sensing a trend yet? that I tend to see the same acts over and over?)
He seemed to be in a really good mood during the set because he said he would play *anything*, and of course someone yelled out "play Peach, Plum, Pear" and he did. I wonder if it gets annoying to get requests for covers that you did 7 years ago? He said "this cover is from 2004. back when it wasn't common to do covers. or like Joanna Newsom"
After Owen I headed to the convention center in order to check out Style X. The line for the American Apparel Flea Market was huge!
I picked up some Square credit card readers. They plug into your iPhone or iPad and allow you to do credit card transactions. Most of the vendors at Style X were accepting payments via Square, and I knew Husband would be excited to have one.
Keds were one of the sponsors and had a trailer that they are taking across the country unveiling new designs along the way particular to the cities they are visiting.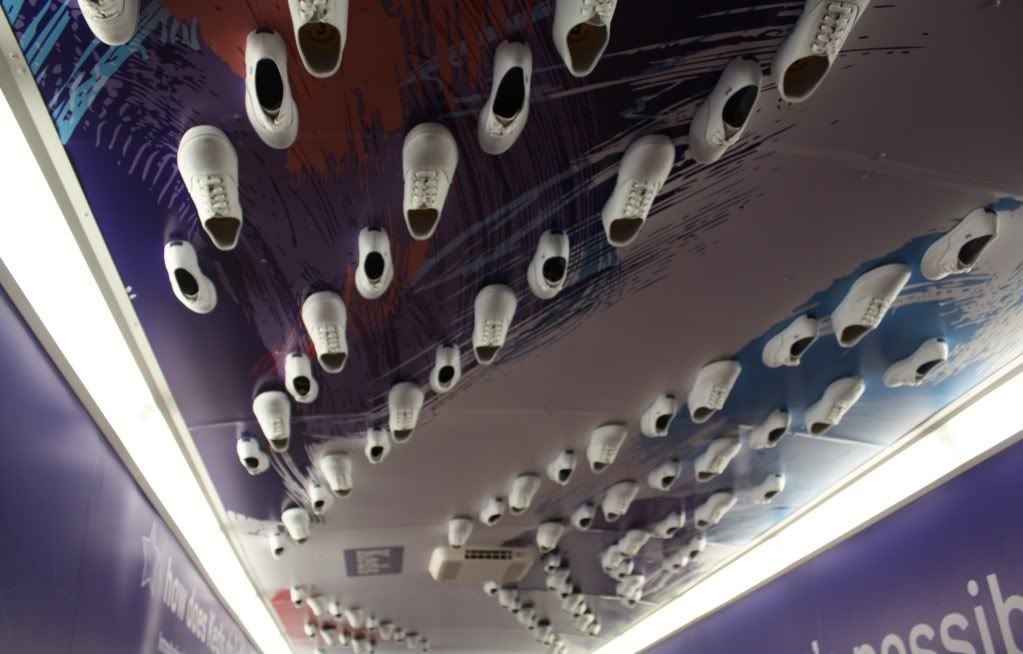 I liked the shoes along the ceiling.
My favorite part was an exhibition of new fashion mixed with technology.
I spoke with the designer of the life jacket on the right who explained that her design is to encourage women to wear life jackets more often by making them fashionable. The life jacket comes in a stylish nautical belt that releases and inflates when you pull a cord (you can see it in action later below). I think it's a pretty good idea when I remember all the times I've been kayaking on Ladybird Lake and just throw the life jacket to the side of the kayak. (er... hi mom! I mean, I always wear one. I mean two! at least!)
She walked me through some of the other designs - the orange-ish dress changes color under UV lights; the red jacket in the background with a bat has a sonar-like mechanism that you can set it to identify objects at a certain distance in front of you and it will vibrate when you get near the objects (it is to help vision impaired people); and the dress on the left uses nanotechnology to get its color rather than dyes.
Moving over a bit there were several dresses that incorporated lights and
lasers.
But most exciting to me was the shoe in the foreground.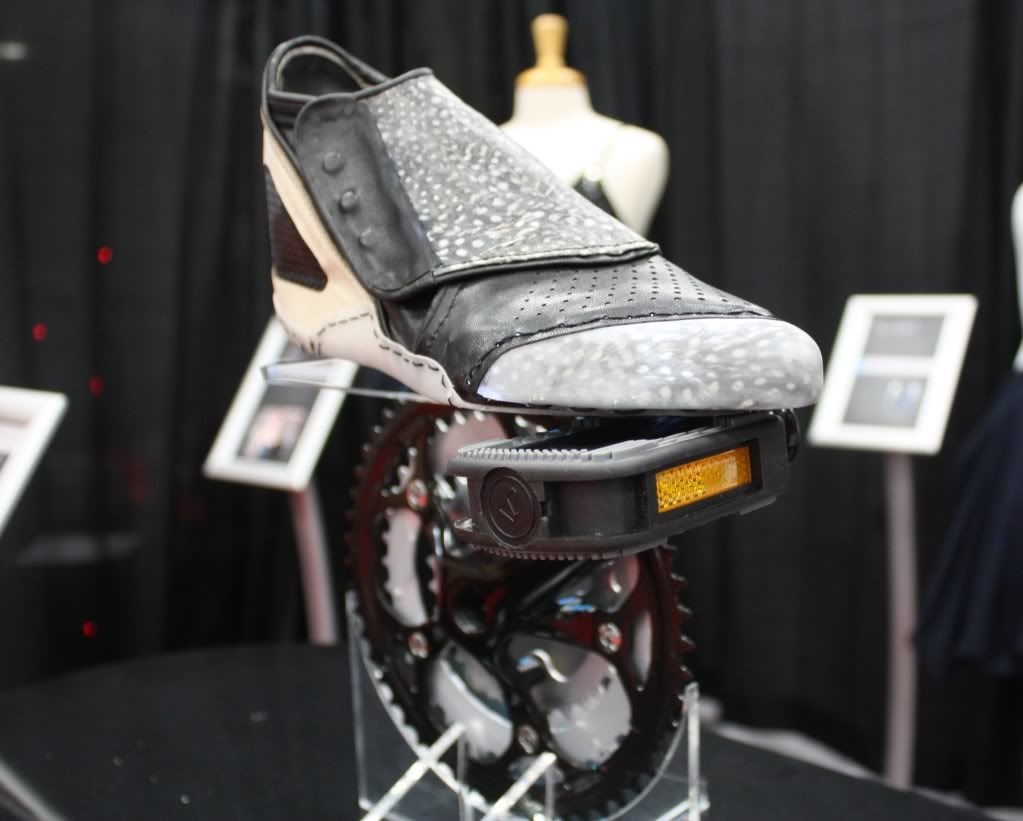 just a prototype right now
I spoke with the designer who talked about how women tend to cycle less often then men in urban environments partially because of safety fears, and she wanted to find a way to address visibility concerns. The shoe will be kinetically powered to light up the front and the heel. She did say they are still researching and developing it, and it could be a year and a half before the working prototypes are out and about for testing. I found this piece the most exciting. If you've read many of my recent posts, you'll know that I ride my bike around when it's convenient.
But, I am always a bit fearful taking my bike on actual roads, and I've never ridden it at night. I look forward to keeping an eye on how the shoe develops and finding out what it will cost (especially since you will have to purchase special pedals with it).
You can find out more about technology mixed with fashion
here
From Style X I headed to Emo's, where the above ink incident happened.
I watched
Givers
, who my brother had been telling me to see for the last year, but I've always had other things going on. I couldn't actually see the stage cause the show was packed, but I liked the music.
Husband showed up after their set and right in time for Friendly Fires (yup. another band I already saw this week). He is a pretty big fan of their first album and enjoyed hearing the new songs. I don't know the name of the new one that is stuck in my head, but it has been going round and round and round my brain ever since 5:45 this evening. About halfway through their set a man came and stood in front of me.
"OH MY GOD!" I exclaimed.
"What?!" said Husband
"That's Keith from We Are Scientists right in front of us!" (whispering so I'm not the creeper behind him. even though I sort of am)
"Oh, so it is."
I didn't see them listed as playing any shows this year, so I guess he just enjoys southby and wanted to check out some bands.
As soon as the Friendly Fires set ended we legged it to the convention center in order to check out the fashion shows.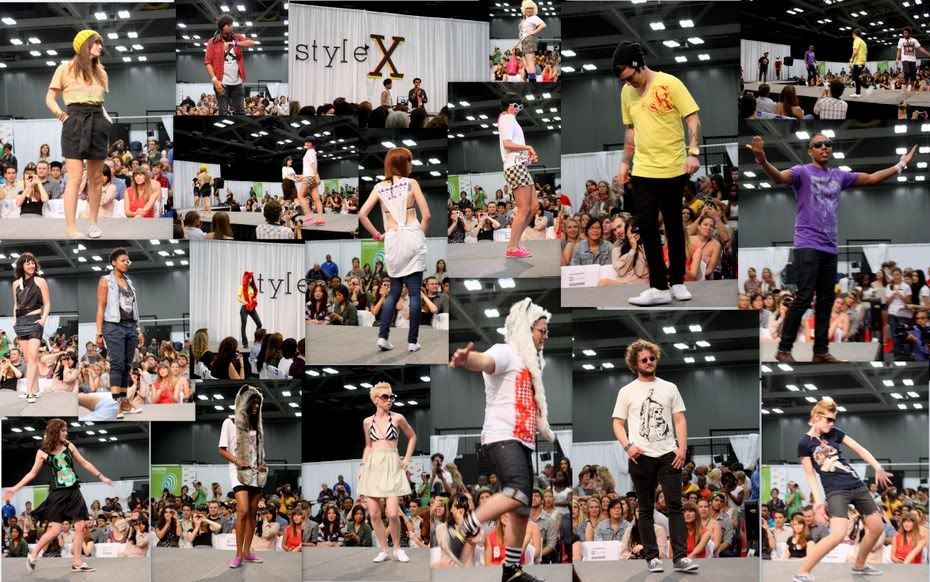 click to view larger
They did a streetwear show with men modeling followed by a women's casual show.
And like I said, here is the life jacket belt in action:
There's another two fashion shows tomorrow starting at 6pm that you can check out! It is free to the public!
Husband really liked an
American Flag shirt
from
We Are the Process
, so we picked him up one (paying with Square, oh yeah).
I had been thinking of going to the Fader Fort to check out Matt & Kim, but we saw on Twitter that they weren't letting more people in (although talking to my brother later a lot of people left after Off Future, so maybe I could have gotten in).
We ended up splurging on dinner at
Malaga
on 2nd Street.
patatas bravas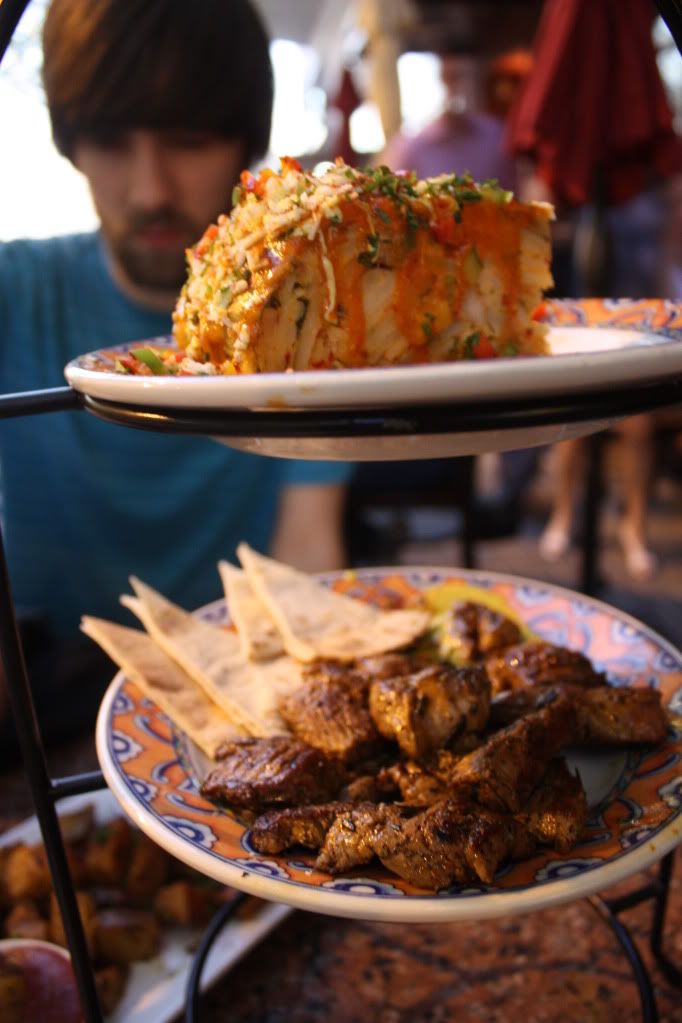 tortilla catalan and cordero cacereño (lamb)
mantecadas (pastry with whipped cream and strawberries)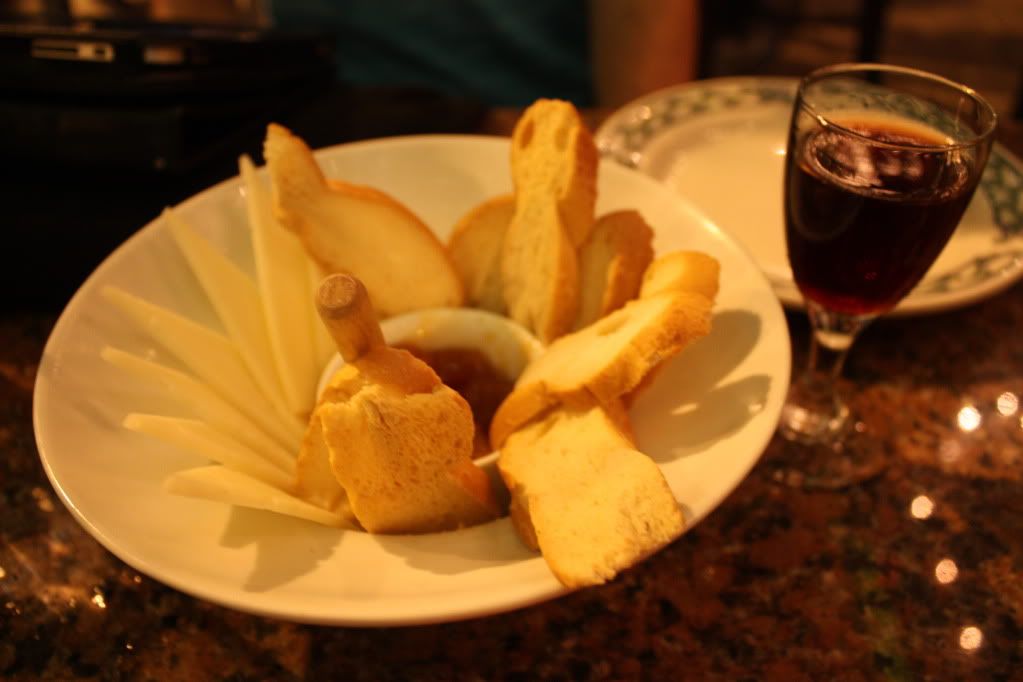 manchego cheese slices, toast and quince paste
The food was utterly fantastic. It was one of the best meals I've had in a long time. Husband is wondering why he didn't appreciate Spain until recently (his grandparents live there part of the year and he would often visit when he was little). I lived in Granada for a semester, and he visited me, and we are both longing to go back so badly.
Headed home and watched the fireworks over Auditorium Shores from our living room at the end of today's show. I didn't realize they would be shooting some off each night. Our cats are getting frazzled :-/