I, along with several of my coworkers, just recently changed shifts and teams at work, so a bunch of us got together for dinner and drinks on Sunday. Sort of like a happy hour, but we called it sad hour cause we wouldn't see each other so much anymore.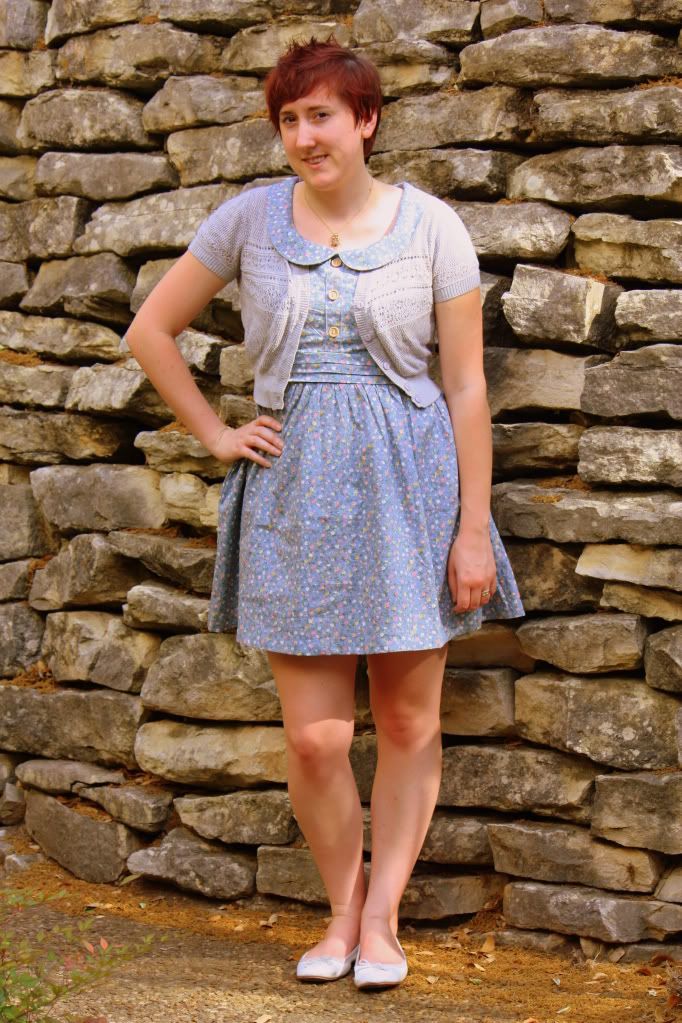 I immediately grabbed this dress when I saw it because I liked the Peter Pan collar.
Dress and cardigan: Forever 21 | Shoes and owl neckace: Primark
I stuffed my face with chips, salsa, and creamy jalapeno dip at Chuy's. Although I really liked everyone on my old team, my new schedule is working out much better for me, even though it has been hard to get myself out of bed much earlier than I'm used to. A couple more days and I'll be in a good routine.
Last night Husband and I attended an advanced screening of
Bridesmaids
. Honestly, I'm not a fan of Kristen Wiig when she's on SNL, but I really liked the film! I was mainly seeing it because I like Maya Rudolph and heard some good things about the film when it showed for SXSW, but I hadn't seen any trailers or really know anything about it.
There were loads of supporting actors/actresses I was surprised to see. Chris O'Dowd from The I.T. Crowd (playing the male love interest, no less!), Jon Hamm (Mad Men), Matt Lucas (Little Britain), Ellie Kemper (The Office. Fun fact: Jon Hamm was her drama teacher at school in St. Louis).
What's really funny is that half the lines in the trailer didn't make it into the actual cut of the film.
Kristen Wiig's wardrobe for most of the film consisted of cute dresses with blazers. I'm actually quite jealous of her clothes and her figure in the film. She looks great for 37!
It's not out for another month (May 13), but I highly recommend you grab a couple friends and go see it when it comes out. Even husband, who was indifferent about going, was pleasantly surprised and left the theater talking about how funny it was.