Over the weekend a friend of mine from South Korea was in town, and we got a chance to hang out on Saturday.
One of the places I took her was
Uncommon Objects
on S. Congress.
Their door says 'no photography please' and even though I saw other people sneaking photos with their iPhones, I'm a big rule abider, so no actual pictures of the current offerings on display, but I can show you the amazing book I got: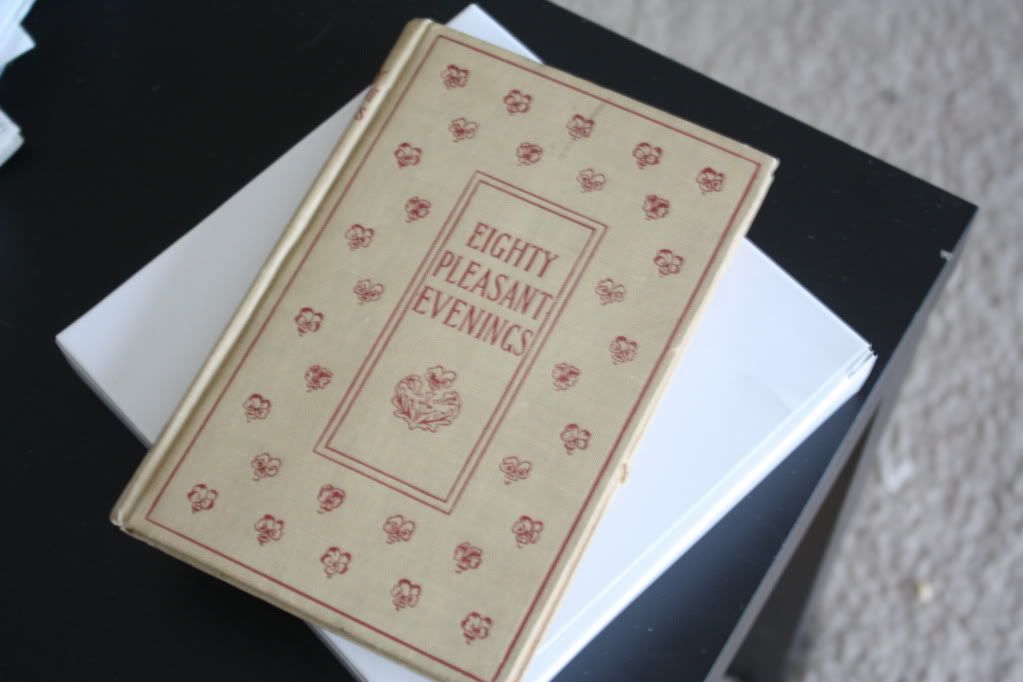 Eighty Pleasant Evenings
was published in 1898 by the United Society of Christian Endeavor, Boston and Chicago.
As the title suggests, the book is a guide for throwing various parties and socials.
I said to Husband that I want to throw all 80 in the space of a year, but after doing the math and seeing it works out to about 7/month I realized that people would probably stop responding to facebook event invites and might even drop me off their friend's list completely.
But, really, who wouldn't want to attend A Dime Social?
"Music and two or three bright recitations or reading may open the evening, after a general conversational time, while the guests are assembling. A paper or talk may be given on the process of coining. This may either precede or follow the "dime game", which we quote from The Household.
See that each person present is provided with a United States dime and a lead-pencil, also a sheet of paper upon which the following list has either been written or printed, with numbered blank spaces for the answers. When these have been distributed, announce that a certain length of time will be given in which to find upon the face of the coin the following articles.
1. Fruit of a tropical tree.
2. What the Siamese twins were.
3. What a lazy man seldom gets.
4. The division of a country.
5. The cradle of liberty.
6. Another name for an isthmus.
7. Something a schoolboy makes.
8. Something a bootblack wants to give you.
10. What a self-conceited man does.
11. What you might do if very angry.
12. Part of a river where the fourth letter of the Greek alphabet is sometimes found.
13. An instrument to catch sound.
... [then there are more clues for the reverse side of the dime]...
Articles found upon the face of the dime:
1. Date 2. United. 3. Ahead. 4. States. 5. America. 6. Neck. 7. Figures. 8. A shine. 9. America. 10. Knows (nose). 11. Stamped. 12. Mouth (Greek letter, Delta). 13. Ear.
Some slight reward may be given to the one having the most correct answers.
For refreshments have cake and ice-cream, peanut sandwiches and lemonade, or strawberries and cream, and charge a dime; also, if desired, have a long table on which may be arranged various articles for sale at that price."
Now doesn't that sound fun?
And who could resist A Washington's Birthday Social!
"Invitations are worded in the usual form, with the word "Costume" in the lower left-hand corner. These costumes may be simple or elaborate, the essential points being powdered hair for all, kerchiefs, and black court-plaster patches for the ladies, and for the gentlemen long hose, knee-breeches, buckled slippers, and lace ruffles in coat-sleeves. Hanging in a conspicuous place should be a life-size portrait of George Washington, framed in evergreen or in red, white, and blue. Flags and draperies of bunting may be added as decorations, wherever desired. Pin the name of some famous Revolutionary character to the back of each guest, and require him to guess his own identity by means of conversational hints from various sources.
Sheets of paper, dainty pencils attached by means of narrow parti-colored ribbon, should be previously prepared. The first page may be decorated with a flag and a patriotic motto. On the inner pages are eight or ten questions or topics for conversation, each numbered, with a space below it for the name of a partner. Each guest engages, or is engaged by, a different partner for each topic. When arranged, all converse five minutes on each topic, beginning, ending, and changing partners and topics at the tap of a bell.
Peanut-shells may be provided, split and tied with narrow ribbon, and containing slips of paper on each of which is written half of the name of a State. These are passed and matched to find partners for refreshments. Just before serving the cake, coffee, and ice-cream, a march should be introduced; and the evening may close appropriately with the singing of patriotic songs."
In all, it's a really humorous look into the past. I was surprised at how people today are still playing similar games, such as the icebreaker where you put some famous' name on people's back and they have to guess who they are.
And rest assured: I will definitely be throwing at least one pleasant evening.
But there's just so many to choose from.