Sunday morning Husband and I decided to see what food we could score. We ended up at the
Today Show's Munchie Mobile
. I wanted to try the Papaquiles, but they were running out of most things before I got to the front of the line. I ended up with the Today Tots and Husband had Le'Today Toast. The food wasn't that good and the portions were tiny, but they had been serving a constant line for four hours, so...
Although we wanted to go some other places, my knee was still hurting and I knew I was walking much slower than usual, so I headed for the Blanton to listen to the TxSC Social Media Symposium panels.
outfit- dress: Modcloth | cardigan: gift from mother-in-law |


shoes: A'gaci






Since I was not walking well, I stayed in the main auditorium and listened to all the panels conducted in there.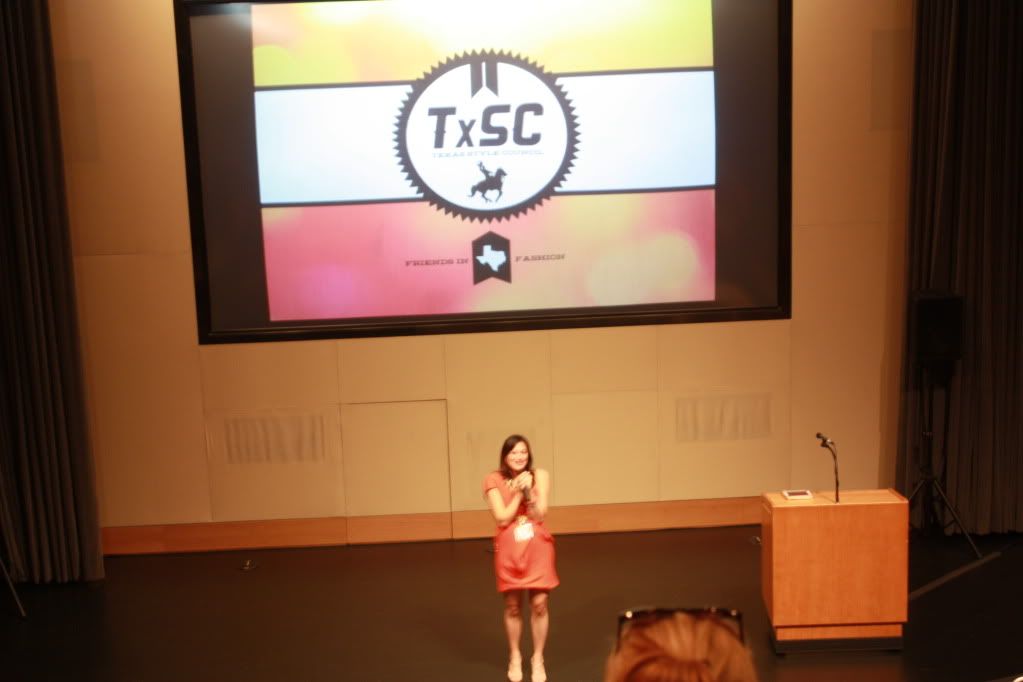 Indiana of Adored Austin introducing Kendi
Keynote Speech:
Kendi Everyday
Her speech really hit home for me. I spend a lot of time looking at people's blogs going "I wish I was as pretty as her", "I wish I could take and edit photos that well", etc. Kendi spoke about how everything put online is put through a filter by the author. We "see someone's best and think it's their always" but really you are just seeing a small fraction of their life and they may only be sharing the best bits. Even some of you may be thinking that I get to do a lot of cool things here in Austin (and I do, I'm not discounting that), but most days I sit around in my underwear after work watching tv and eating junk food. A quote she said resonated with a lot of the audience (at least I think so by the number of times it was retweeted!), "Comparison is the thief of joy". And it is true. There will always be someone better than you at something, often most things! She encouraged us to "let your blog be what drives your purpose - not your purpose." Be excited about what you are doing! How can your online presence enhance your offline relationships?
Panel One: Think Local, Go National
panelists: Camille of Camille Styles, Jessie of Style and Pepper, Matt of Launch 787 and Austin Fashion Week, Charmie of Rae Cosmetics | moderator: Tolly of Austin Eavesdropper
I have been on Launch 787's email list for quite a while and am familiar with Austin Fashion Week and Rae Cosmetics. Husband is a regular reader of Austin Eavesdropper. I had not heard of the first two panelists, but each person up there had somehow found a way to make their local sites appeal to a national level or brought national brands to the local level. An overrunning theme in this panel was also about creating original content. Original content is what will attract readers and keep them around. Find your niche!
Panel Two: Amped Up Writing
panelists: Ann of Cult of Pretty, Caroline of Lucky Magazine, Jessica of Refinery29 | Moderator: Pam of Over 50 Feeling 40
This panel discussed a lot about finding your purpose and your voice. What is the purpose of your blog? Who are you writing for? What is going to set you apart?
I think that I tend to be really wordy and tend to make short stories long instead of long stories short. I have to think about how I can edit myself, not necessarily from over-sharing, but just being more concise in what I want to say.
Panel Three: Blogging Lessons Learned
panelists: Elizabeth of Delightfully Tacky, Jen of Jen Loves Kev, Kyla of Blue Collar Catwalk, J of J's Everyday Fashion | Moderator: Molly of
Smart, Pretty, and Awkward
I felt like this panel discussed things that were discussed last year, but that wasn't necessarily a bad thing since there were so many new people in attendance. They talked about things they will share online, things they won't share, hateful comments they have received and what they do about them, etc. I didn't really take any notes during this panel. Sorry!
Panel Four: Blog Balance: Why Your Blog is not Your Life
panelists: Diya of In Her Stilletos, Julie of Orchid Grey, Kristina of Pretty Shiny Sparkly, Veronica of Tick Tock Vintage | Moderator: Macala of FashionablyMarketing.me
The main thought I walked away from this panel with was "holy crap! Where does Diya find the time to do the things she does?!"
All of the panelists have successful blogs, yet they have not chosen to be a full-time blogger. They talked about their reasoning for it whether it was the need of a consistent paycheck or the love of their day job. They talked about benefits of being just a part time blogger, but also some of the drawbacks (like having to turn down a trip to Barcelona!!!). The girls definitely put a lot of work and love into their blogs, but the blogs are not their whole lives. I fall more into this category. Even if I was good enough to make money off a personal blog, I do not think I'd give up my day job. This is more of a hobby and an outlet for me.
Capstone Panel: Be Extraordinary, Dream Big
panelists: Jean of Neiman Marcus, Naomi of Teen Vogue, Amber of rewardStyle | Moderator: Tara of Buyosphere
All of these woman have jobs that I'm sure all of the attendees would love to have. They each started off talking about their background and their road to what they do now. I think a good message from this panel was, yes, you should dream big! BUT once you know your dream, you have to put in the work to make it happen. None of these women had their current jobs just handed to them right off the bat. They put in years of hard work and worked their way up to their dream job. They also discussed the changing landscape of media - how print is dying out - and how brands are changing to to keep up.
~*~*~*~*~*~*~*~*~*~*~*~*~*~*~*~*~*~*~*~*~*~*~*~*~*~
While I was at the conference, husband was at home following Twitter and #sxsw. He found out that one of my favorite people - Kristen Schaal - was in town and would be performing at Esther's Follies Sunday evening along with several other cast members of Bob's Burgers. I love Kristen Schaal in Flight of the Conchords, The Daily Show, and I've started to get into Bob's Burgers, but it took me a few episodes to make my mind up about it.
Originally Husband and one of my brothers tried to go to the 8pm show, but that didn't give me enough time to get home, eat, and get downtown with my aching knee. They called me from the line when it started to let in and said that they were definitely letting in non-SXSW badge holders, so they thought we should try for the 10:30pm show in the hopes it would not be full either. (I think Husband must have known how upset I was that I couldn't be there). So I broke down and paid for downtown SXSW parking and stood in line for an hour to get in to the late show.
Totally worth it.
Eugene Mirman, who I saw last year at the IFC House, started off. I like that he often has visuals of funny things he finds or does on the internet.
Dan Mintz and Larry Murphy were both funny, but I was there for Kristen.
She did not disappoint. It was funny because she kept looking at one side of the audience and making faces or winking, and both Husband and Brother thought she was looking in their direction. I think maybe the whole group of people in that area thought the same thing.
The funniest part was when she decided to do a live action version of Hans Christian Andersen's The Little Match Girl in honor of his birthday.
With hilarious results that included a dance with the devil that I'm not sure was in the original...
The comedy was a great end to a long, but fun, weekend.