As much as I have been wishing and hoping and thinking and praying for rain (and am happy deep down that we are getting some), it really would make things easier if it waiting another 10 days.
My plans for riding my bike all around
like last year
went down the drain upon seeing the weather forecast for this weekend. Cold and wet.
After work today, I went to Target on a mission - I needed rain boots. Twenty-five years old and I have never owned rain boots. My first two months in Wales were the wettest of the last 10 years, but I never had rain boots. Texas Style Council weekend and South by Southwest week - I NEED rain boots!
Unfortunately it appeared many other people had the same idea, because their supplies were depleted. I had a choice between bright red or zebra print - both $32.99. I had a $25 gift card from my birthday and didn't really want to spend more than that. But this was a necessity. I went wandering around looking looking for a poncho as well, which I didn't find, but I did come across "garden boots" in their outdoor section that were almost the same as the rain boots but only $17.99! Score!
Not the coolest shoes ever, but I needed them for practical reasons rather than fun.
I went home, got changed, put on the wellies, a coat, and threw my handbag in a big plastic trash bag before braving the torrential downpour flooding the downtown area.
I actually did pretty good with staying dry for the walk to the
Texas Style Council
headquarters.
I missed the happy hour kick-off due to work, but arrived at a good time for the clothing swap sponsored by
Swap
and
Lulu*s
. Everyone was to bring 2 items to hang up and then you could take two items.
As I was putting my items on hangers I was near one of the clothes racks and there was a girl near me who I was like "oh, I'm sorry, am I in your way trying to get to the rack?" and she said, "no, I want that yellow dress you have and I'm waiting for you to put it on the rack" hahaha. I was like "why wait for it to go on the rack? Here!"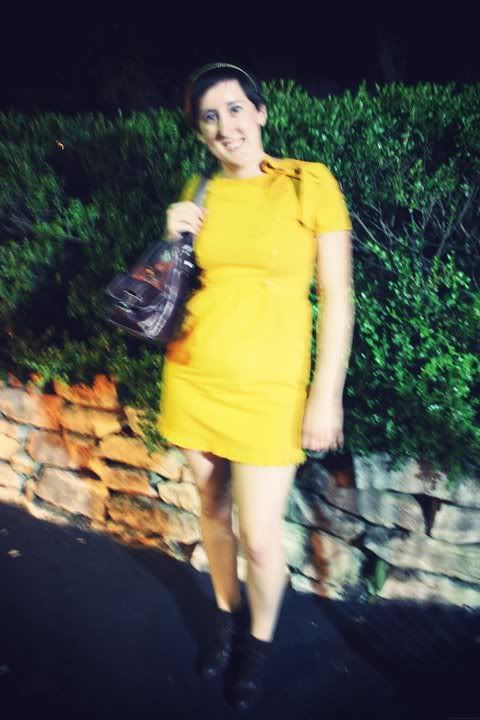 goodbye, yellow dress!
I don't know if she ended up taking it or not, but I hope whoever ends up with it is happy!
I didn't end up with anything from any of the other attendees, but I did get an awesome shirt courtesy of Lulu*s, who had set up a rack of awesome items. I originally tried on a super cute romper, but it didn't fit me and I don't see it on their website :(
Nonetheless, they had all sorts of great colorblocking pieces in bright colors. Perfect for getting into the Spring mood, even if it is raining all weekend.
new shirt
I saw several of the blogging
all
stars
and one girl who was wearing a dress that I own that I had considered wearing tonight. Oops! Glad I went with something else!
Sorry there are no pics from the event right now, but I didn't want to bring my camera out in the rain. I've got a busy weekend ahead and hopefully more things to share!